Your Cart: 0 Items
Cart items expire in 1 hour, not reserved.
Racked, Robotic Conductive Pipette Tips, for Tecan, EVO, and Cavro
In Stock:
Regular price
Sale price
$19.78
Unit price
per
Sale
Contact Us
Product Information
Product code : SPCT200-BB-EA
Four E's USA supplies a variety of pipette tips for most liquid handling applications. These high quality, robotic pipette tips are Non-Pyrogenic and DNase/RNase free to eliminate the risks of sample contamination. These 200uL and 1000uL conductive tips are designed with low retention technology minimize liquid residue, improving dispensing accuracy. Available in hanging rack or racked configurations designed for height sensing liquid handling robots such as Tecan and Cavro.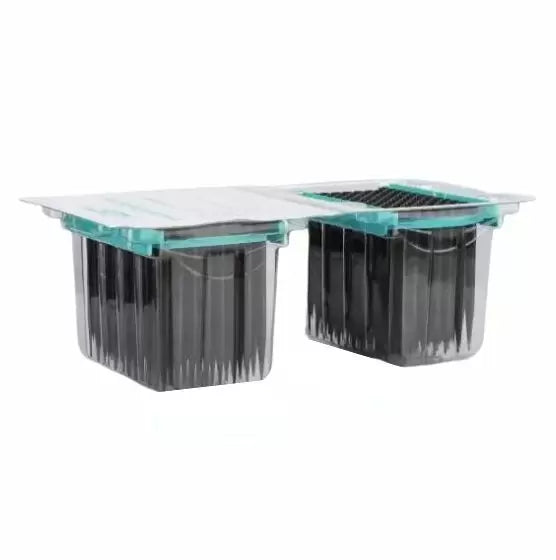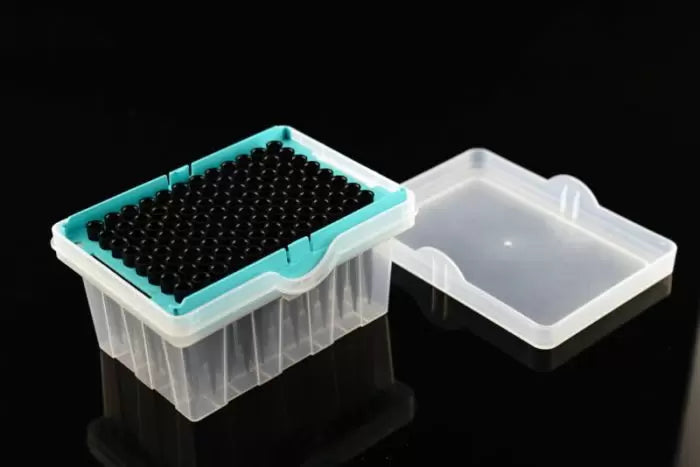 Bulk, Non-Filtered = Extreme Value
When quality injection molding meets superior pipette tip design you get high performance at a low price. These Non-Pyrogenic, DNAse/RNAse free tips are the perfect addition to laboratories on a budget. Designed for high accuracy and sealing these tips are great for Four E's Pipettes and Pipettes from other manufacturers. These tips can be autoclaved and work well with most pipettes. Check out the compatibility chart in the downloads section to determine what pipette tip is right for your pipette.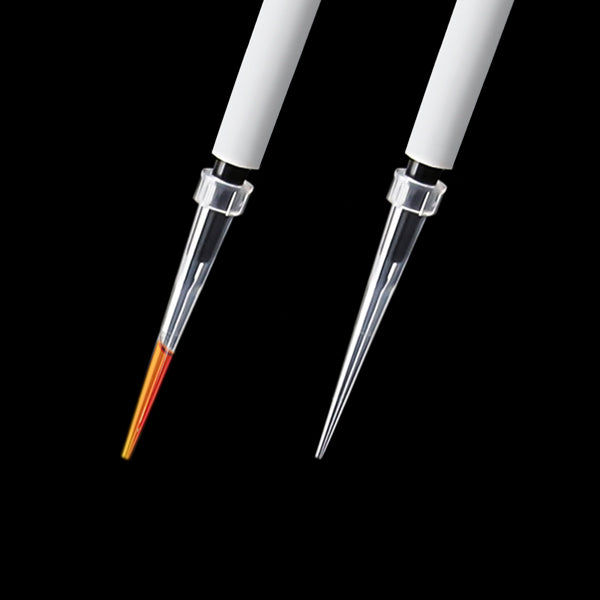 Specifications

Features

Downloads
| Item | Product Description | Product Image | SKU | Order |
| --- | --- | --- | --- | --- |
| 200uL Conductive, Sterile, Hanging Racked Pipette Tips, 96pcs | 200uL, Sterile, Hanging Racked, Conductive Tips for Liquid Handling Robots, RNase/DNase Free, Non-pyrogenic, Black, for Tecan and Cavro Workstations. | | SPCT200-BB-EA | |
| 200uL Conductive, Sterile, Filtered, Hanging Racked Pipette Tips, 96pcs | 200uL, Filtered, Sterile, Hanging Racked, Conductive Tips for Liquid Handling Robots, RNase/DNase Free, Non-pyrogenic, Black, for Tecan and Cavro Workstations. | | SPCFT200-BB-EA | |
| 200uL Conductive, Sterile, Filtered, Racked Pipette Tips, 96pcs | 200uL, Filtered, Sterile, Racked, Conductive Tips for Liquid Handling Robots, RNase/DNase Free, Non-pyrogenic, Black, for Tecan and Cavro Workstations. | | SPCFT200-R-EA | |
| 200uL Conductive, Sterile, Racked Pipette Tips, 96pcs | 200uL, Sterile, Racked, Conductive Tips for Liquid Handling Robots, RNase/DNase Free, Non-pyrogenic, Black, for Tecan and Cavro Workstations. | | SPCT200-R-EA | |
| 1000uL Conductive, Sterile, Hanging Racked Pipette Tips, 96pcs | 1000uL, Sterile, Hanging Racked, Conductive Tips for Liquid Handling Robots, RNase/DNase Free, Non-pyrogenic, Black, for Tecan and Cavro Workstations. | | SPCT1000-BB-EA | |
| 1000uL Conductive, Sterile, Filtered, Hanging Racked Pipette Tips, 96pcs | 1000uL, Sterile, Filtered Hanging Racked, Conductive Tips for Liquid Handling Robots, RNase/DNase Free, Non-pyrogenic, Black, for Tecan and Cavro Workstations. | | SPCFT1000-BB-EA | |
| 1000uL Conductive, Sterile, Filtered, Racked Pipette Tips, 96pcs | 1000uL, Filtered, Sterile, Racked, Conductive Tips for Liquid Handling Robots, RNase/DNase Free, Non-pyrogenic, Black, for Tecan and Cavro Workstations. | | SPCFT1000-R-EA | |
Features
Non-pyrogenic, DNAse/RNAse free

High Accuracy and Sealing Capability

Made of high-quality Polypropylene (PP)

Compatible with most popular pipettes - check the compatibility chart

Innovative Design that Improves Tip Ejection and Loading
Pipette Tip Compatibility Chart