Your Cart: 0 Items
Cart items expire in 1 hour, not reserved.
Laboratory Water Bath 2-24 Liter - 4E's USA Digital Lab Water Baths
In Stock:
Regular price
Sale price
$319.67
Unit price
per
Sale
Contact Us
Product Information
Product code : WB101V11
Advanced Water Baths in 2, 5, 13, and 24 liter sizes. Sleek design with advanced digital controls and a built-in timer.  Programmable setpoints for easy use.  Includes lid and platform base for accurate and quick sample temperature management. Great for use with tubes, beakers, bags, or any containers. This will become your laboraty's go-to water bath for microbial or molecular work.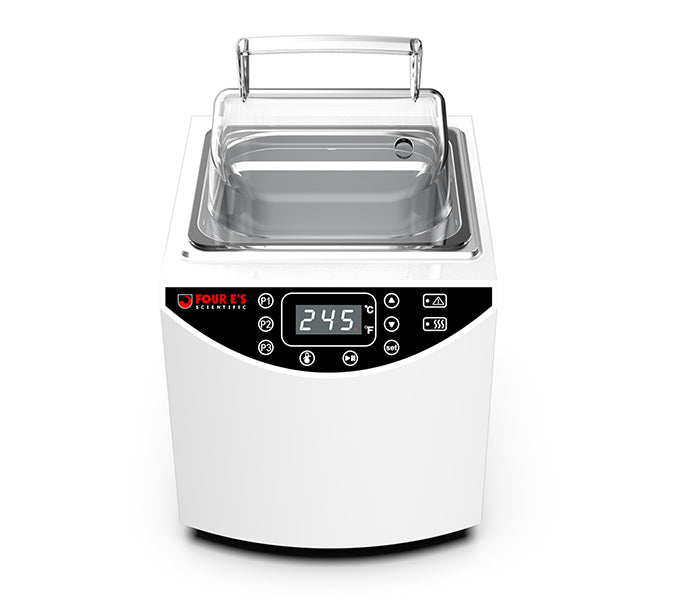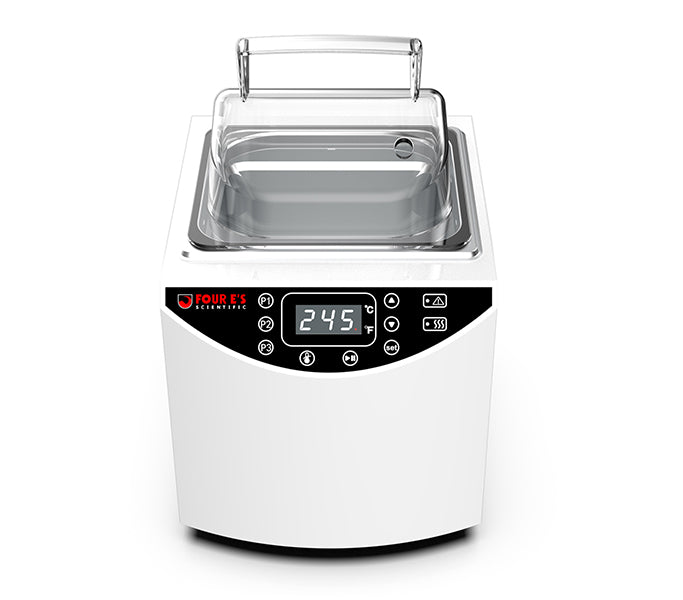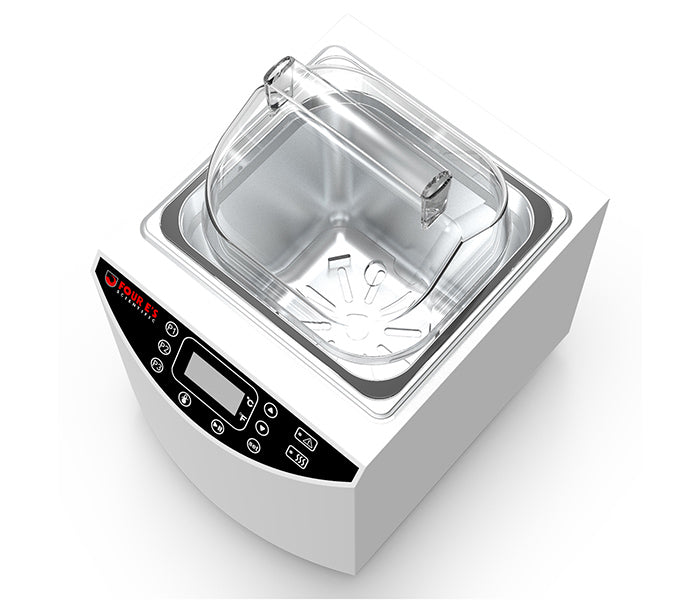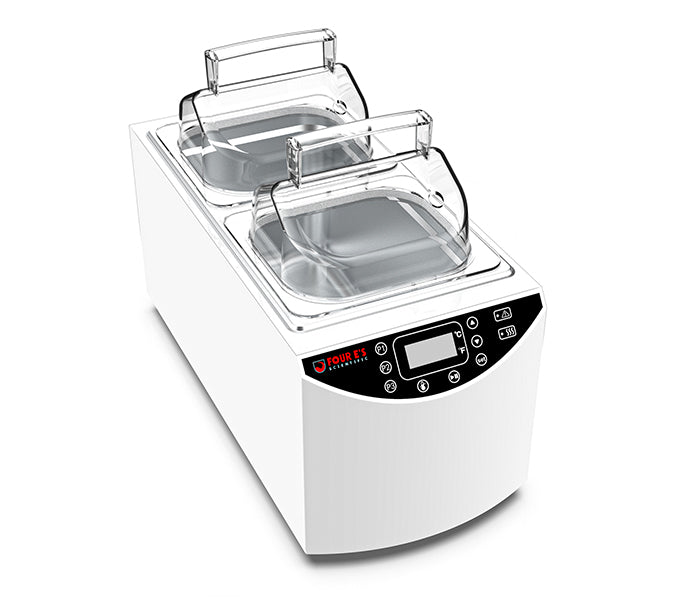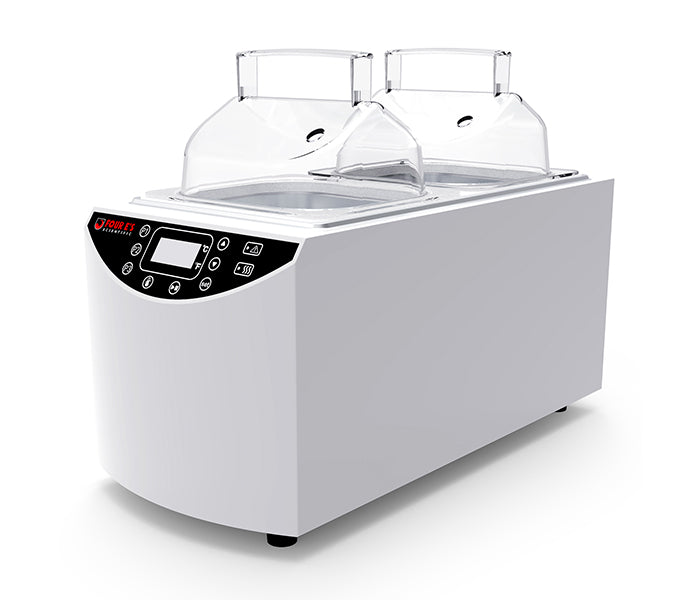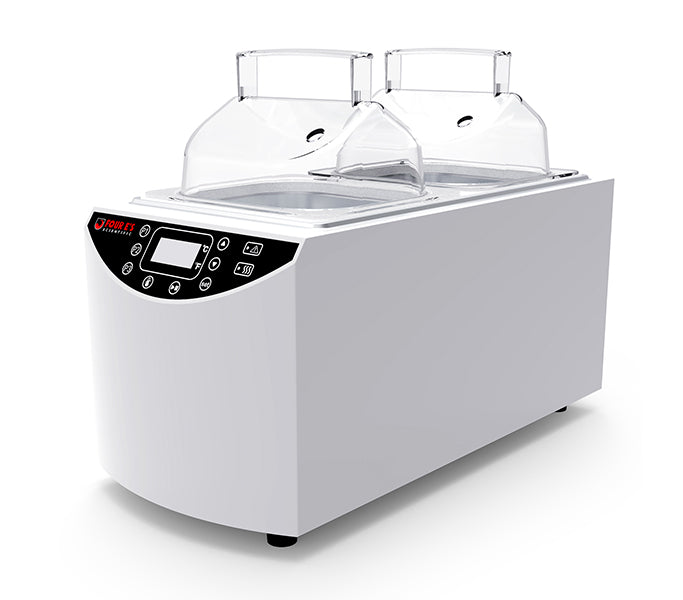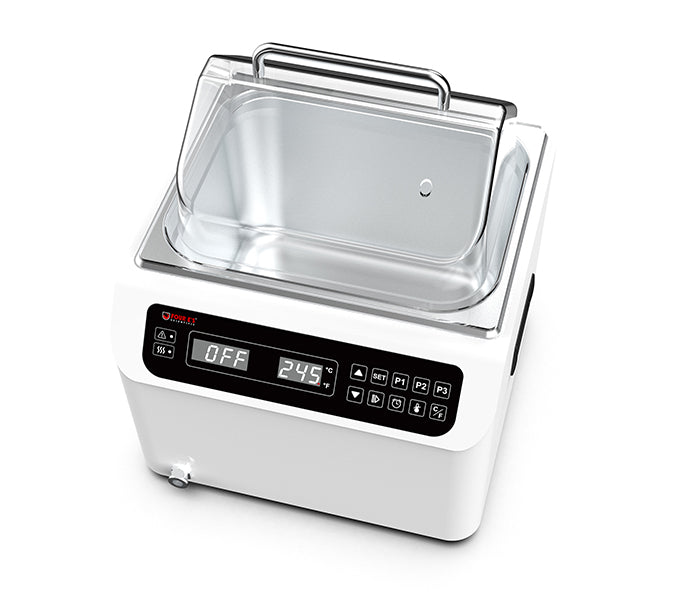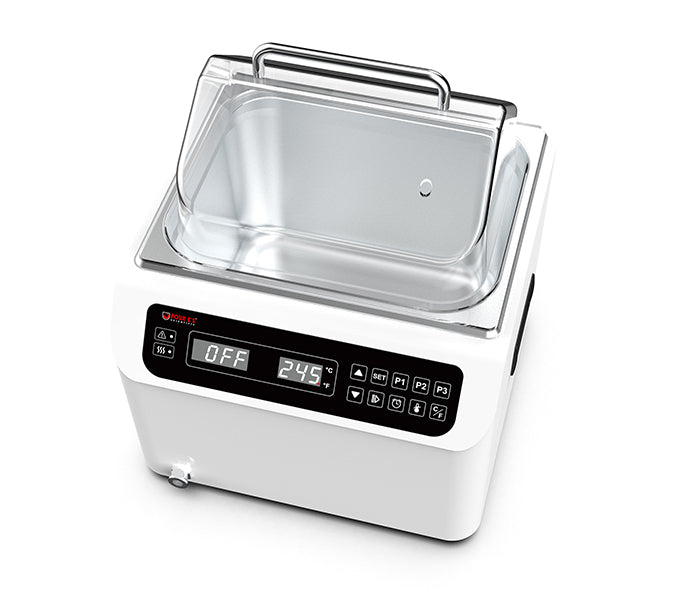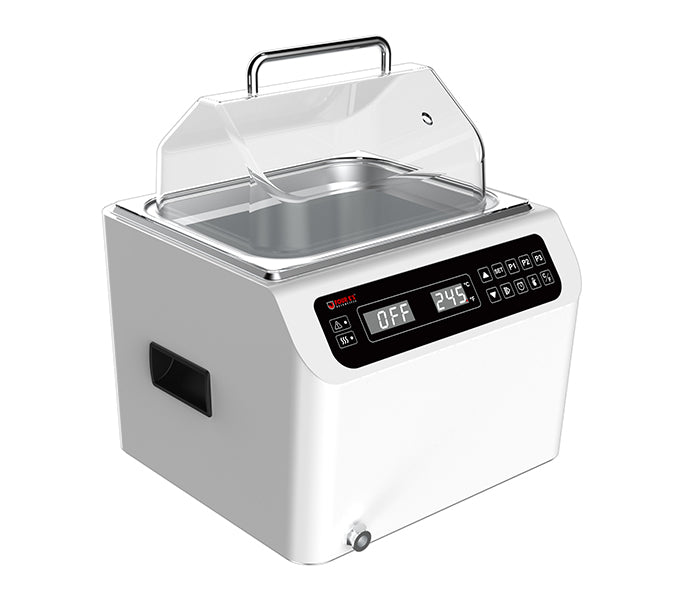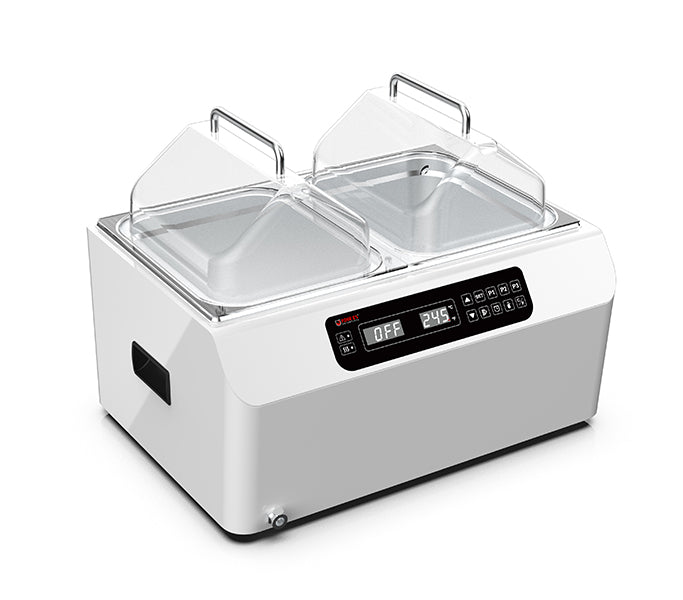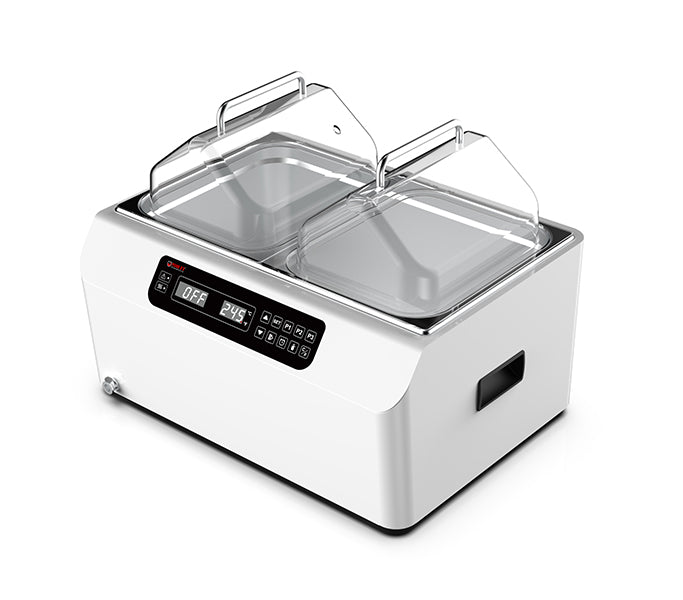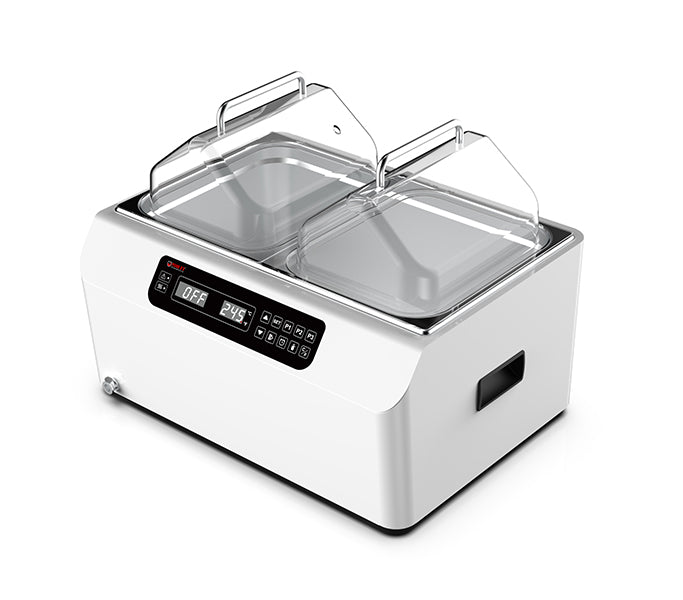 Programmable, Modern, Water Baths for Accurate Temperature Control of Samples, Solutions, and Saccharomyces
Water is the best method to transfer heat to a sample due to its ability to conform to the container and its thermal properties. Four E's water baths have a modern design and performance that take laboratory water baths to the next level. The basin is manufactured of high-grade stainless steel that resists corrosion and is easily cleaned. The glass touch panel allows for temperature and timer controls with three configurable program buttons for quick launching of temperature setpoints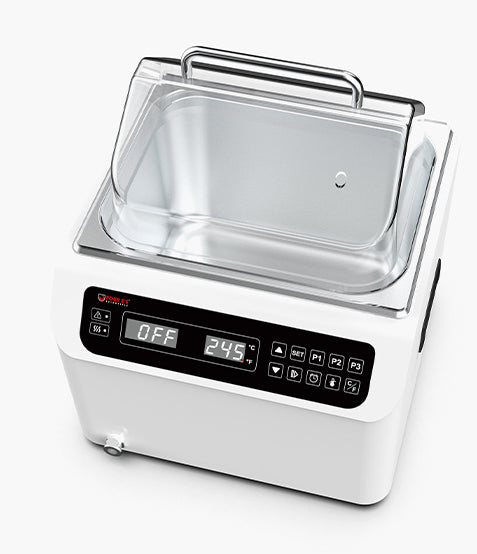 Precise Temperature
Control
---

Bright, Easily Readable, Modern Display
---

Built in
Timer
---

Glass Touch Panel with 3 Program Buttons
Specifications

Features

Downloads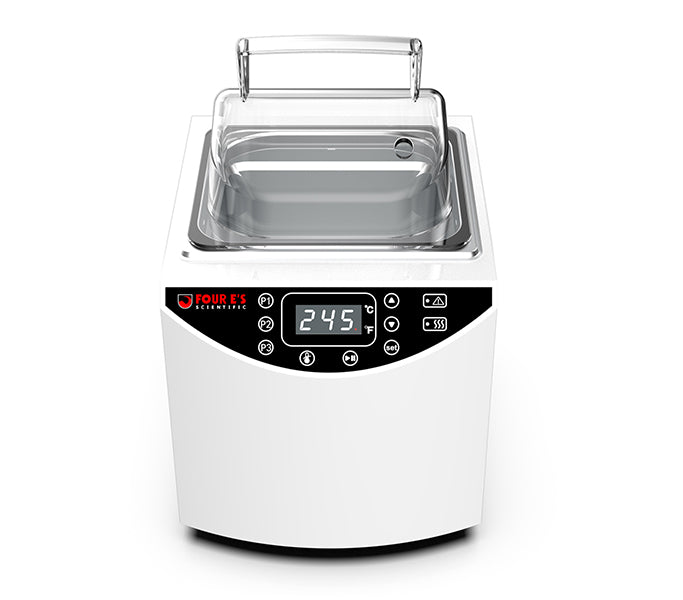 2 Liter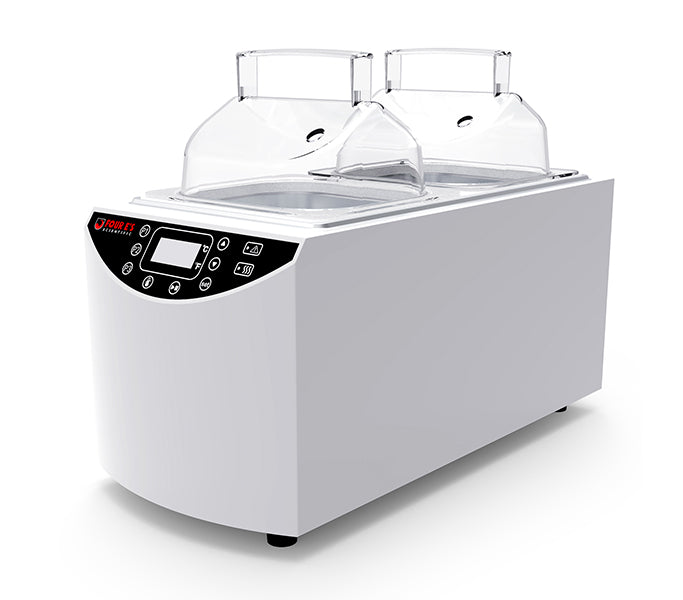 5 Liter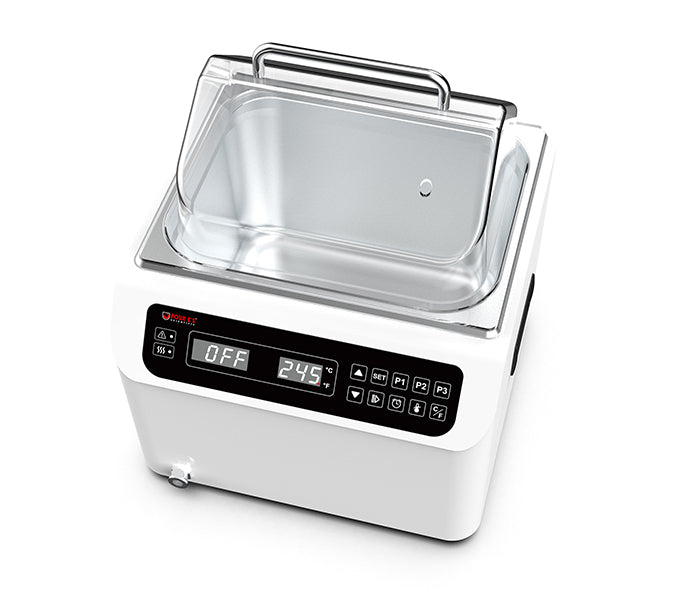 13 Liter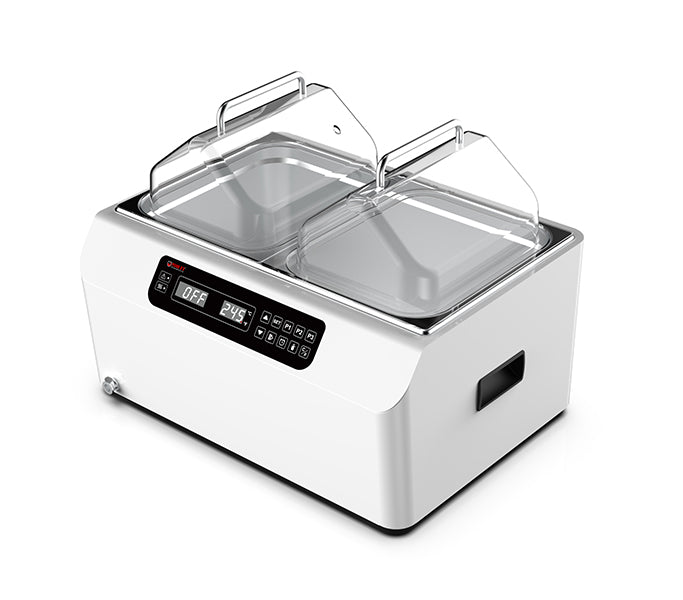 24 Liter
| | | | | |
| --- | --- | --- | --- | --- |
| Reservoir Capacity | 2 Liter | 5 Liter | 13 Liter | 24 Liter |
| Heating Temperature Range | RT +5°C to 99.9°C | RT +5°C to 99.9°C | RT +5°C to 99.9°C | RT +5°C to 99.9°C |
| Over Temperature Cut-off | Yes | Yes | Yes | Yes |
| Dry-Start Protection | Yes | Yes | Yes | Yes |
| Temperature Stability | ± 0.5°C | ± 0.5°C | ± 0.3°C | ± 0.3°C |
| Temperature Display Accuracy | 0.1°C | 0.1°C | 0.1°C | 0.1°C |
| Chamber Dimensions (L x W x D) | 150 x 138 x 150mm | 300 x 150 x 150mm | 303 x 342 x 200mm | 500 x 300 x 200mm |
| Temperature Display | LED | LED | LED | LED |
| Time Display | LED | LED | LED | LED |
| Time Setting Range | 1-999min | 1-999min | 0~999min | 1~999min |
| Dimensions (L x W x D) | 252 x 188 x 285mm | 394 x 188 x 285mm | 303 x 242 x 426.5mm | 560 x 414 x 426mm |
| Weight | 3 kg | 4.5 kg | 7.3 kg | 14.5 kg |
| Input | 200-240VAC, 50/60HZ100-120VAC, 50/60HZ | 200-240VAC, 50/60HZ100-120VAC, 50/60HZ | 200-240VAC, 50/60HZ100-120VAC, 50/60HZ | 200-240VAC ,50/60HZ100-120VAC , 50/60HZ |
| Power | 200 W | 450 W | 1000 W | 1450 W |
Features
Easy to read LED display

Adjustable temperature range

Precise temperature control

User-friendly glass panel touch interface

Dry-start protection feature for improved safety

Over-temperature cut-off & alarm to protect samples from over heating

Programmable modes can store up to 3 programs

Durable stainless-steel chamber

Timed operation capable

Easy to switch temperature unit between fahrenheit (°F) and celcius (°C)
Intelligent design
Four E's takes water baths seriously. Each water bath includes a see through lid and a base tray. The lid has a port for a temperature probe and the base tray positions the samples in the ideal position. Water baths are heated from the bottom and the sides. When the sample is in contact with a heating surface, temperature will not be as accurate and uniform. The base tray keeps the sample from contacting the heating surface. Most water bath suppliers don't include these items, but we go the extra step to ensure our units outperform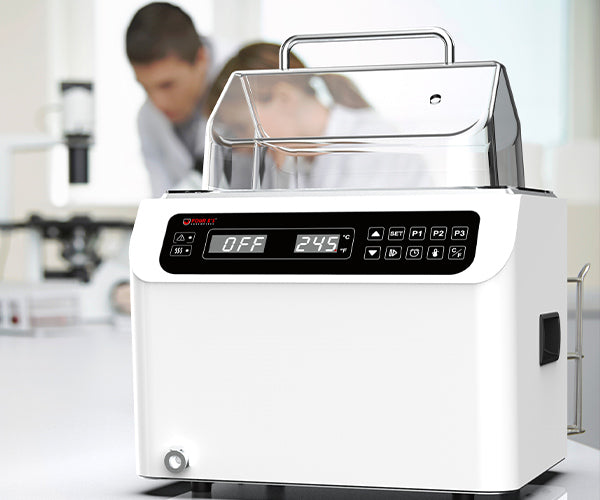 Calibration is Key
Have you ever tried to calibrate a water bath? It should be easy, but many suppliers have hidden menus and difficult to follow instructions to calibrate their equipment. The Four E's water baths have simple menus for a two-point temperature calibration. The easy-to-use glass-touch interface walks the user through a low point calibration and a high point calibration. We recommend that the water baths be calibrated annually or as needed based on your labs protocol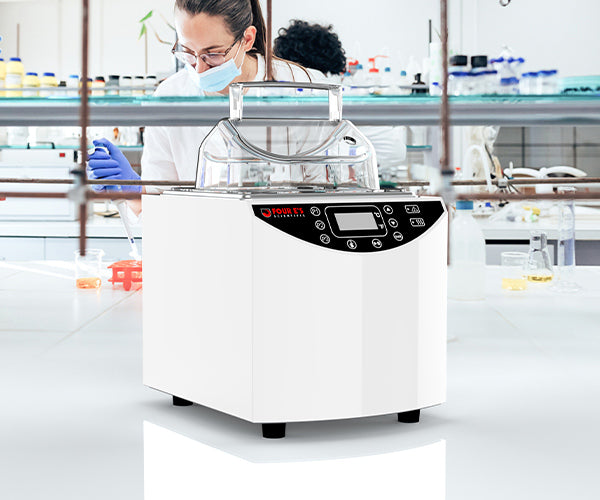 4E'S Vs Other Brands
Base Plate and Lid Included
Two Point Simple Calibration
Switch Quickly Between ⁰C and ⁰F
Over-temp Alarm and Safeties
Frequently Asked Questions
Everything you need to know about product and billing. Can't find the answer you are looking for? Please write your question to us at info@4Es-USA.com
Can just the low or the high temperature calibration setpoint be calibrated?
Yes, each calibration point can be calibrated independently. From the "Set" menu scroll to "LCP" for Low Calibration Point or "HCP" High Calibration Point to select the Calibration Point of the water bath
Is there a warranty on the unit?
Four E's water baths come with a two-year warranty
Is there a drain on the water baths?
The 2 Liter and the 5 Liter water baths are small enough to be emptied manually. All water baths 13 Liters or larger are supplied with a drain port and a drain tube for easy drainage.
What are the materials of construction of the basin?
The basin is constructed of high-grade stainless steel to protect from corrosion.
What is the lowest operating temperature of the water bath?
All water baths can maintain a low temperature of plus 5⁰C ambient temperature.
Does the unit have a heating indicator?
Yes, the unit has an LED light indicator when the unit is heating.
Does the unit have alarm codes?
Yes, the unit has alarm codes such as "DRY" (Dry Start Alarm) for easy diagnosis.
How do you configure the three program buttons?
To configure a program button, press the one of the three program buttons. Use the up down arrows to scroll to the correct temperature setpoint. Press the program button again to set the program temperature value.
Got a question? Let's talk.
PS: I am a human! :)
Support is online