Your Cart: 0 Items
Cart items expire in 1 hour, not reserved.
Overhead Stirrers | 20 Liter – OHS100120, 40 Liter – OHS100140, 60 Liter – OHS100160
In Stock:
Regular price
Sale price
$900.86
Unit price
per
Sale
Contact Us
Product Information
Product code : OHS100120
Four E's overhead stirrers are modern, robust, and intelligent. We manufacture 3 models to match your sample size and viscosity. Each stirrer is supplied with all components needed for operation. There are also a variety of impellers available as options to ensure sample miscibility. Please contact our product specialists if you require assistance determining which stirrer is correct for your application.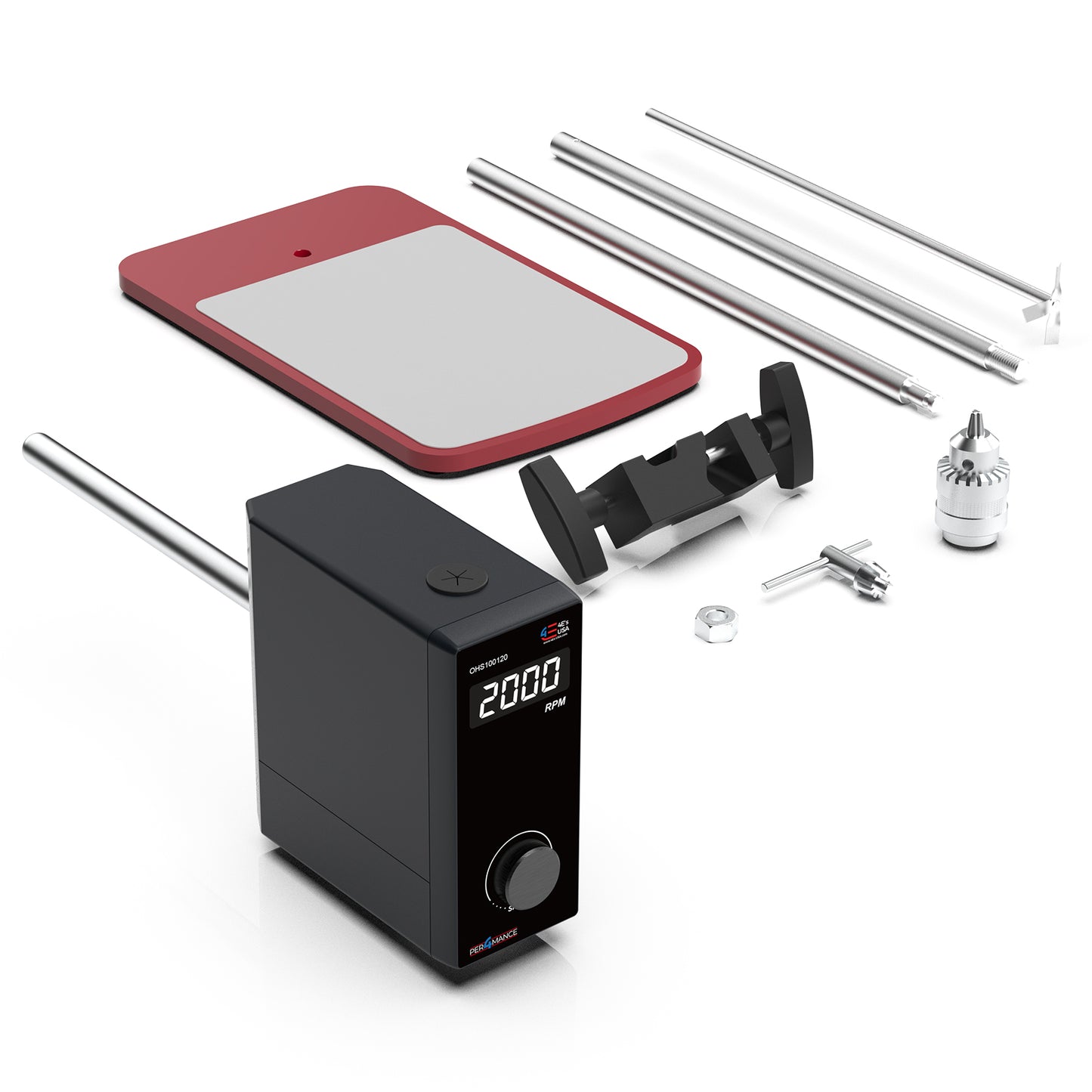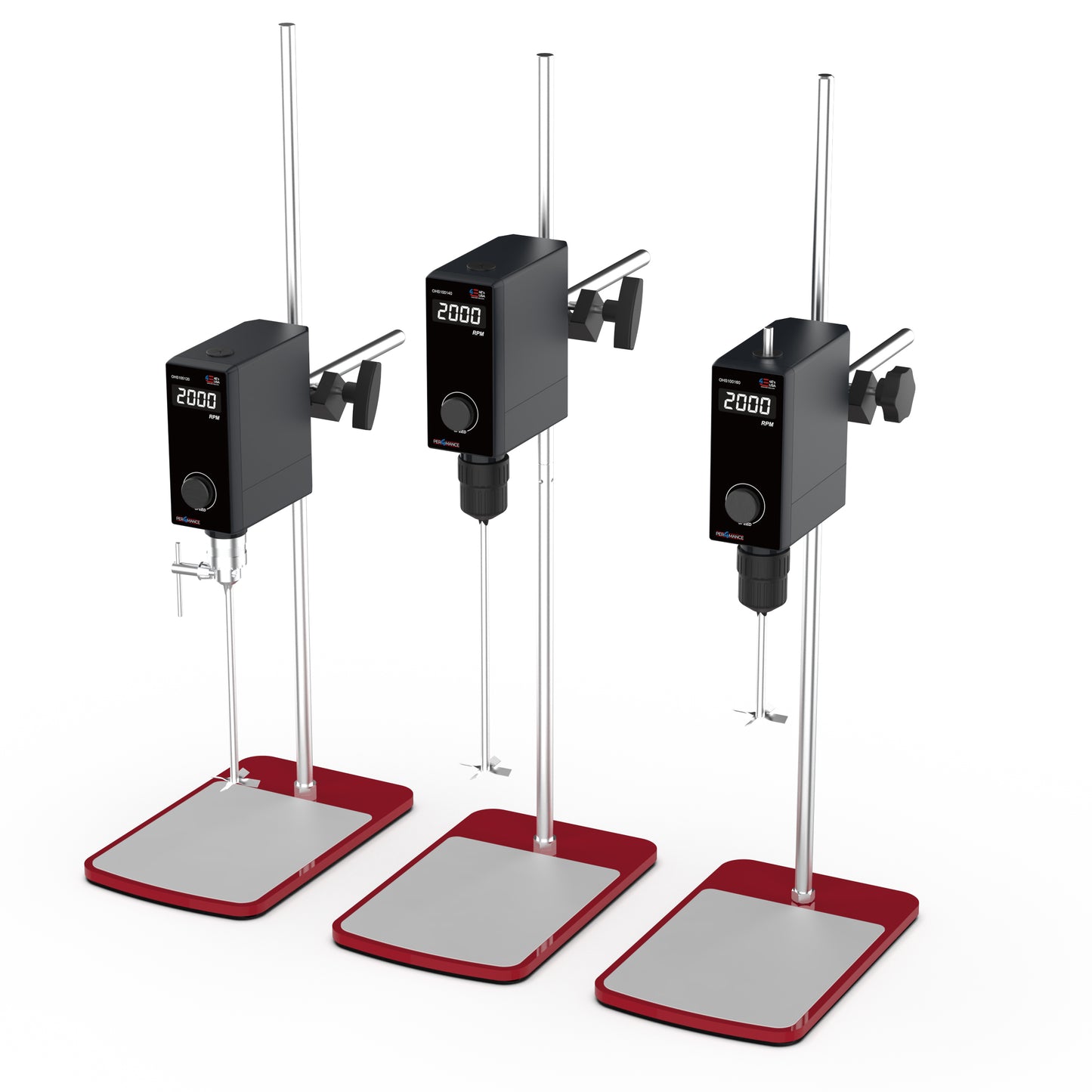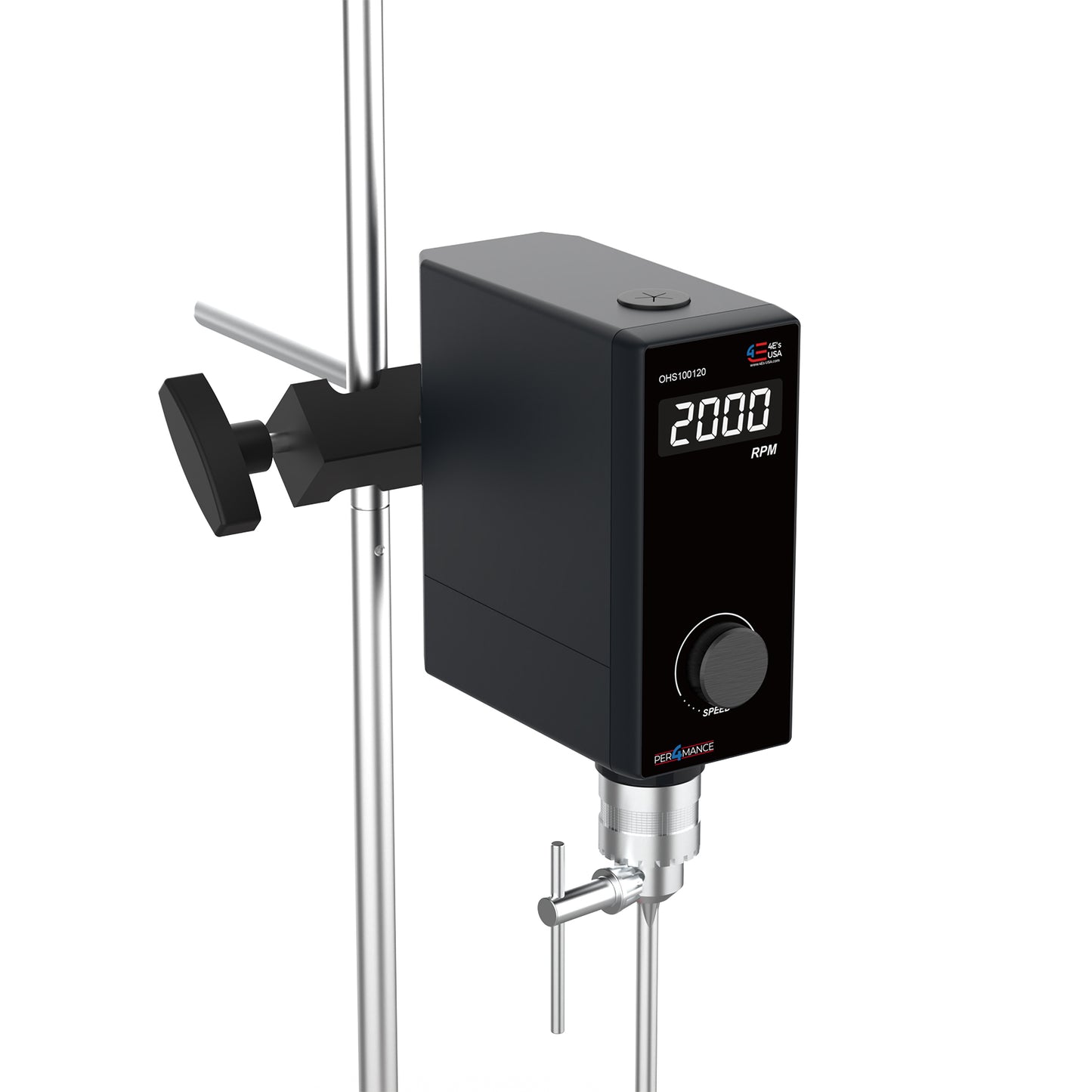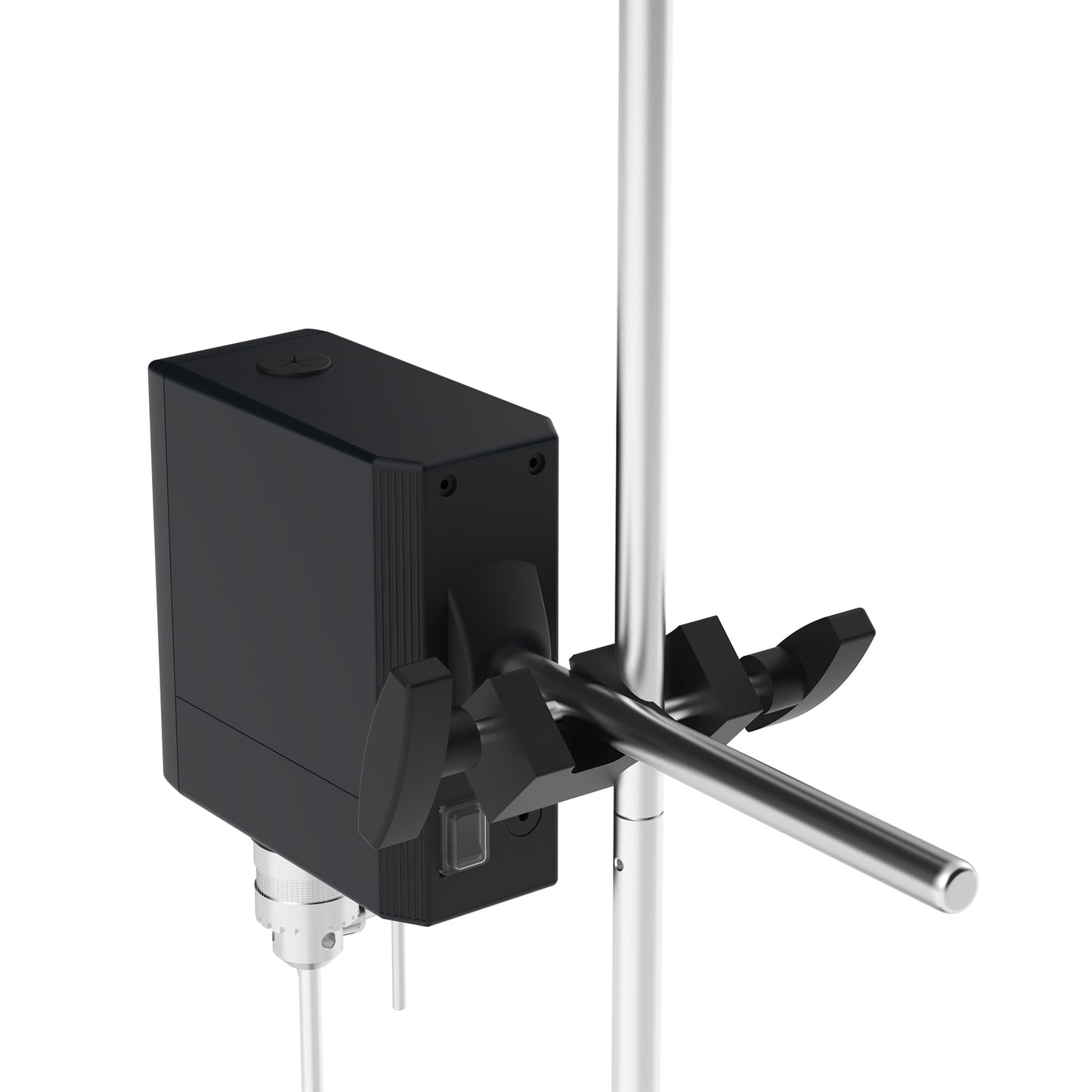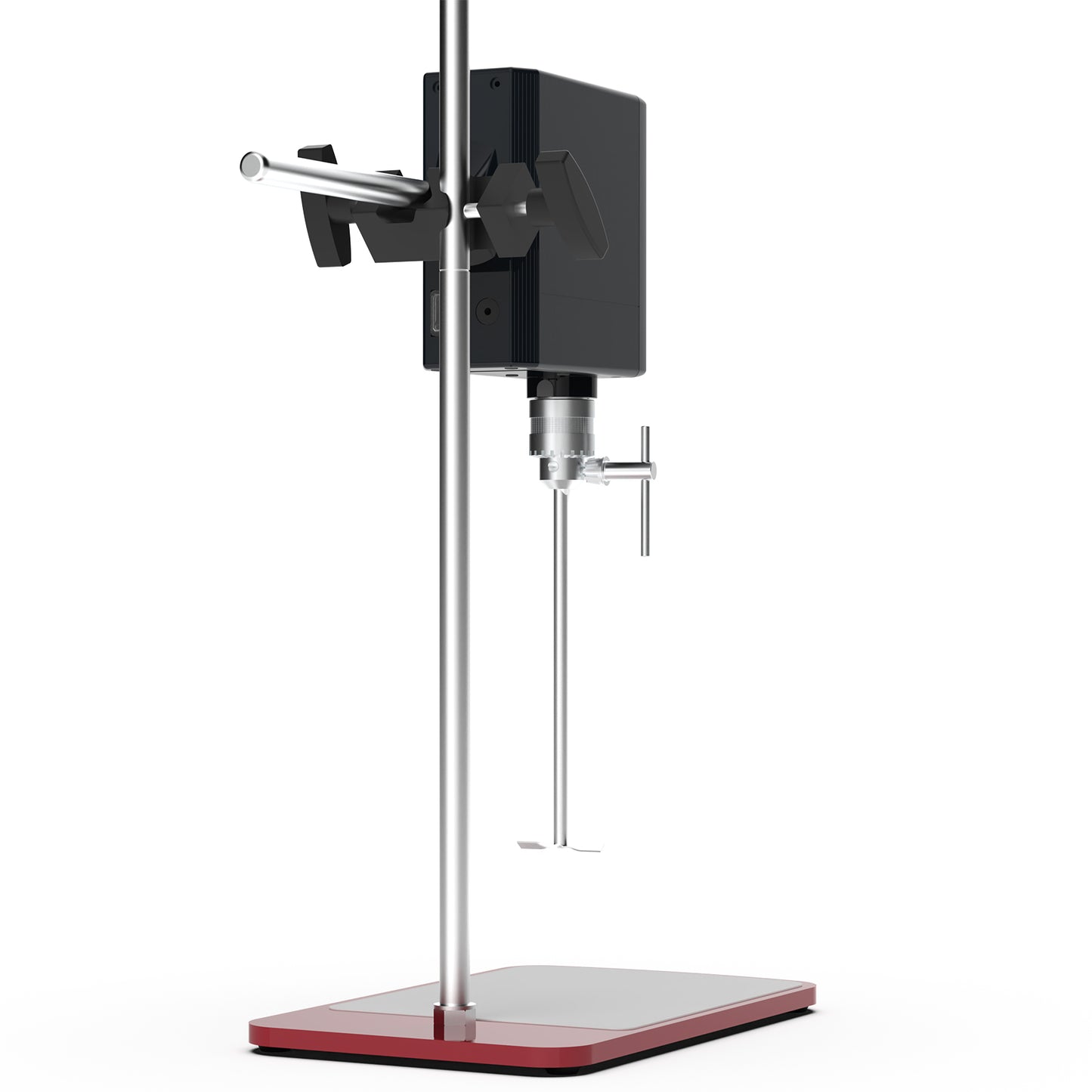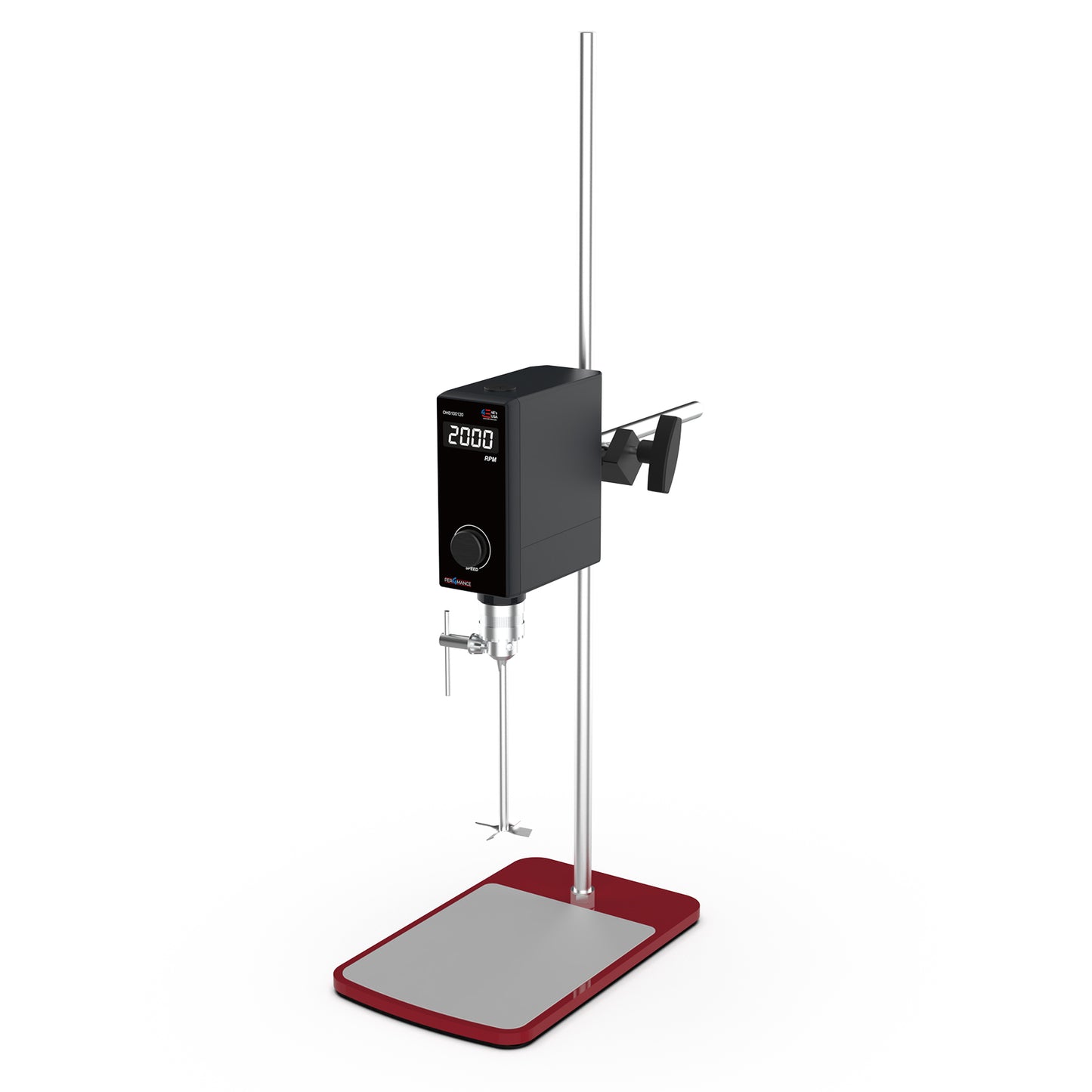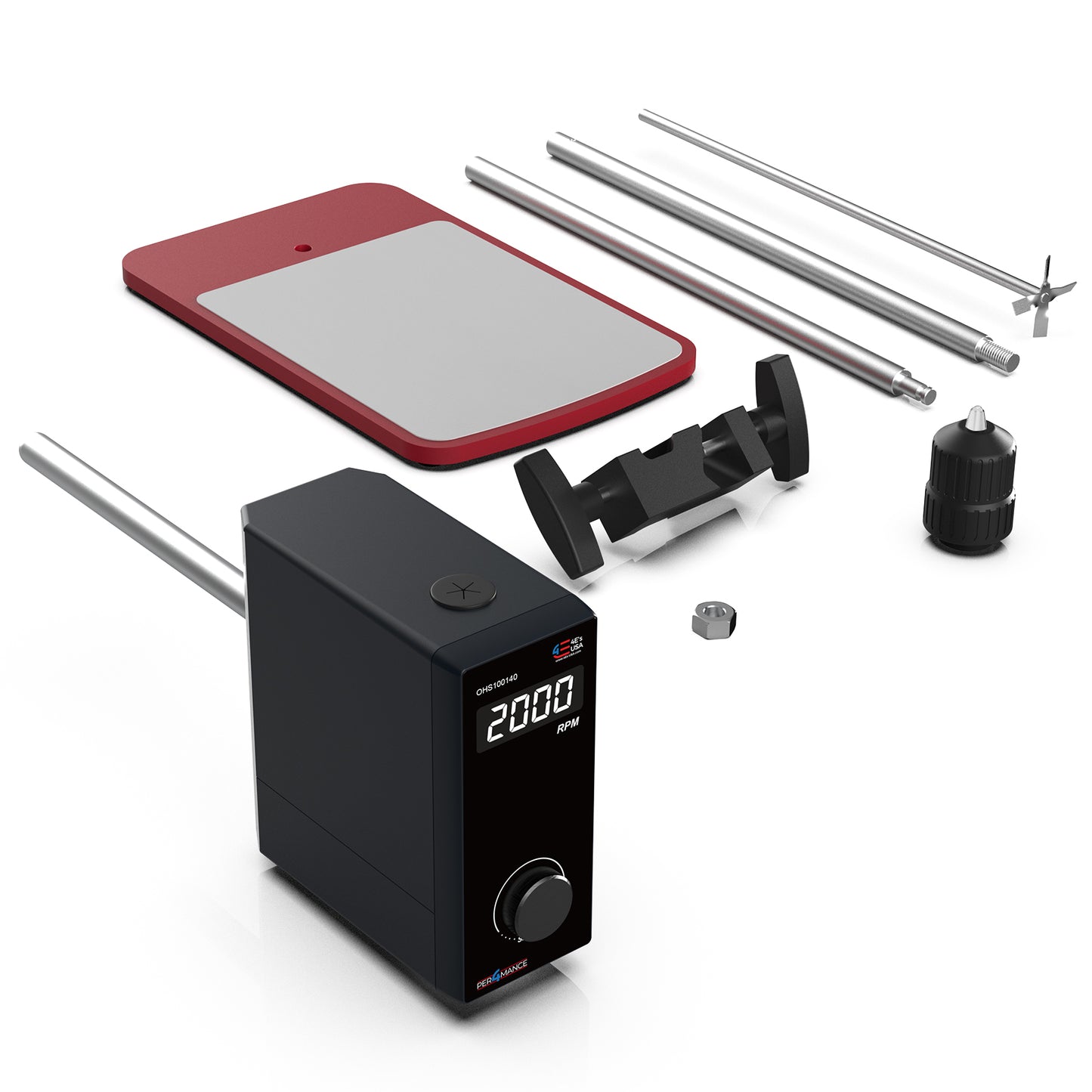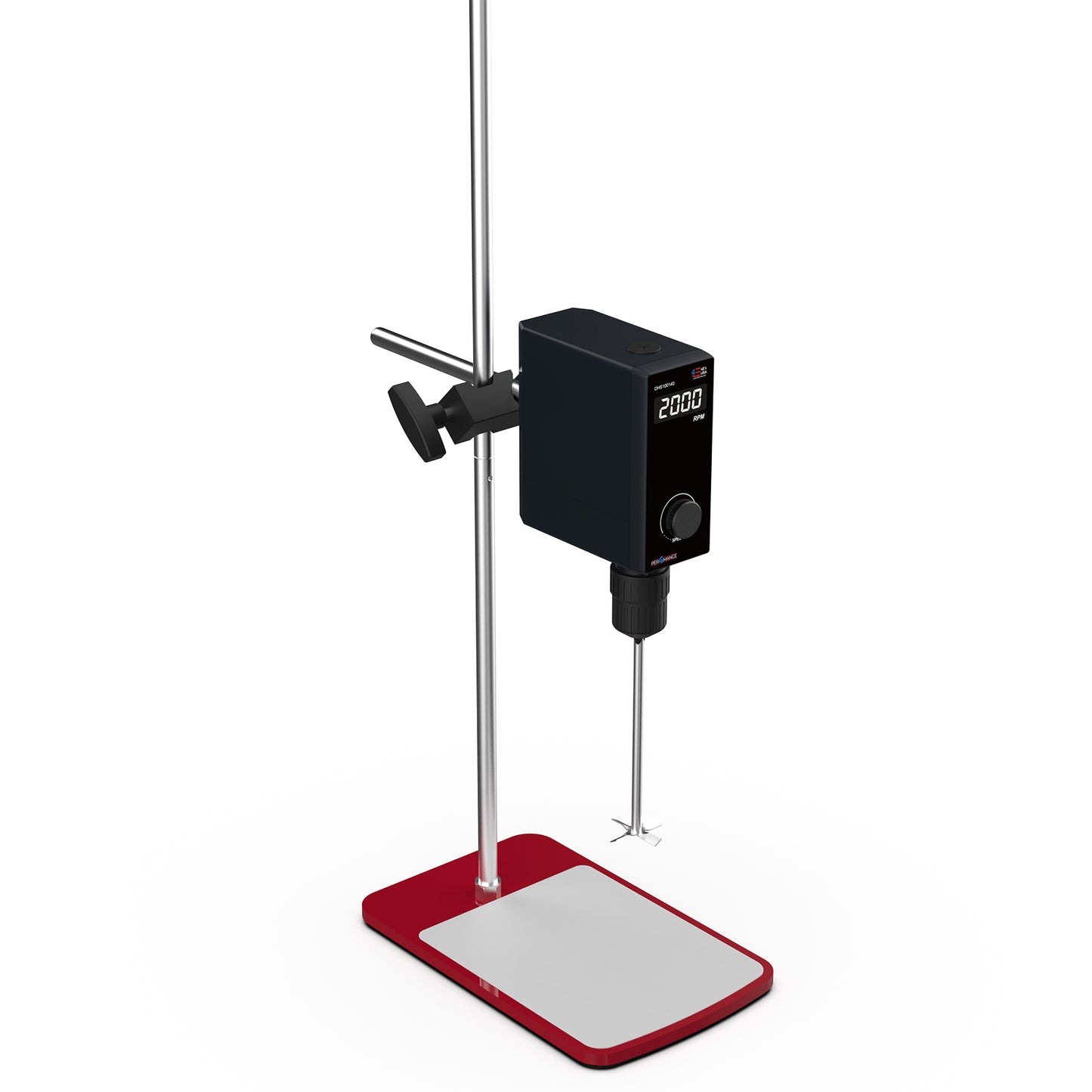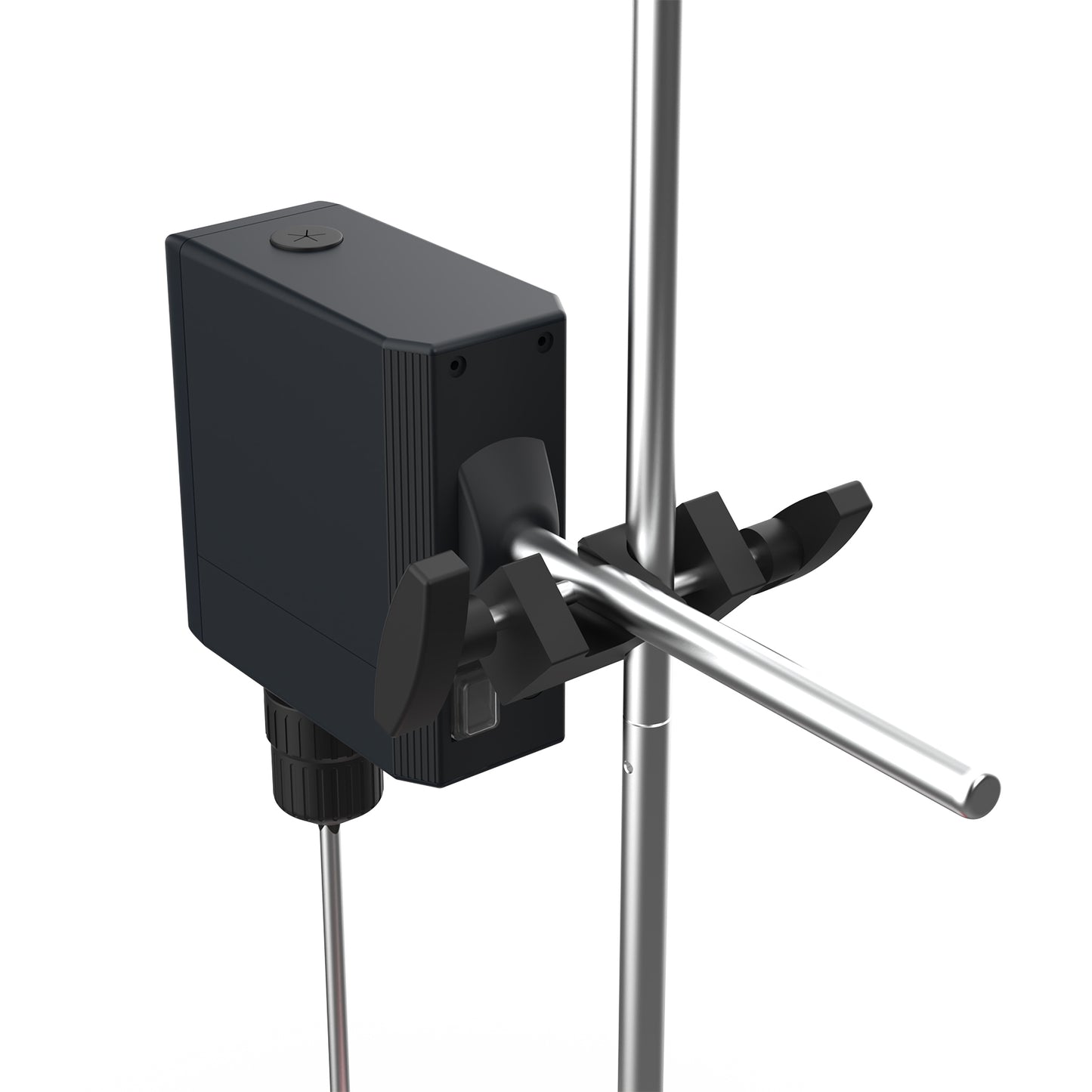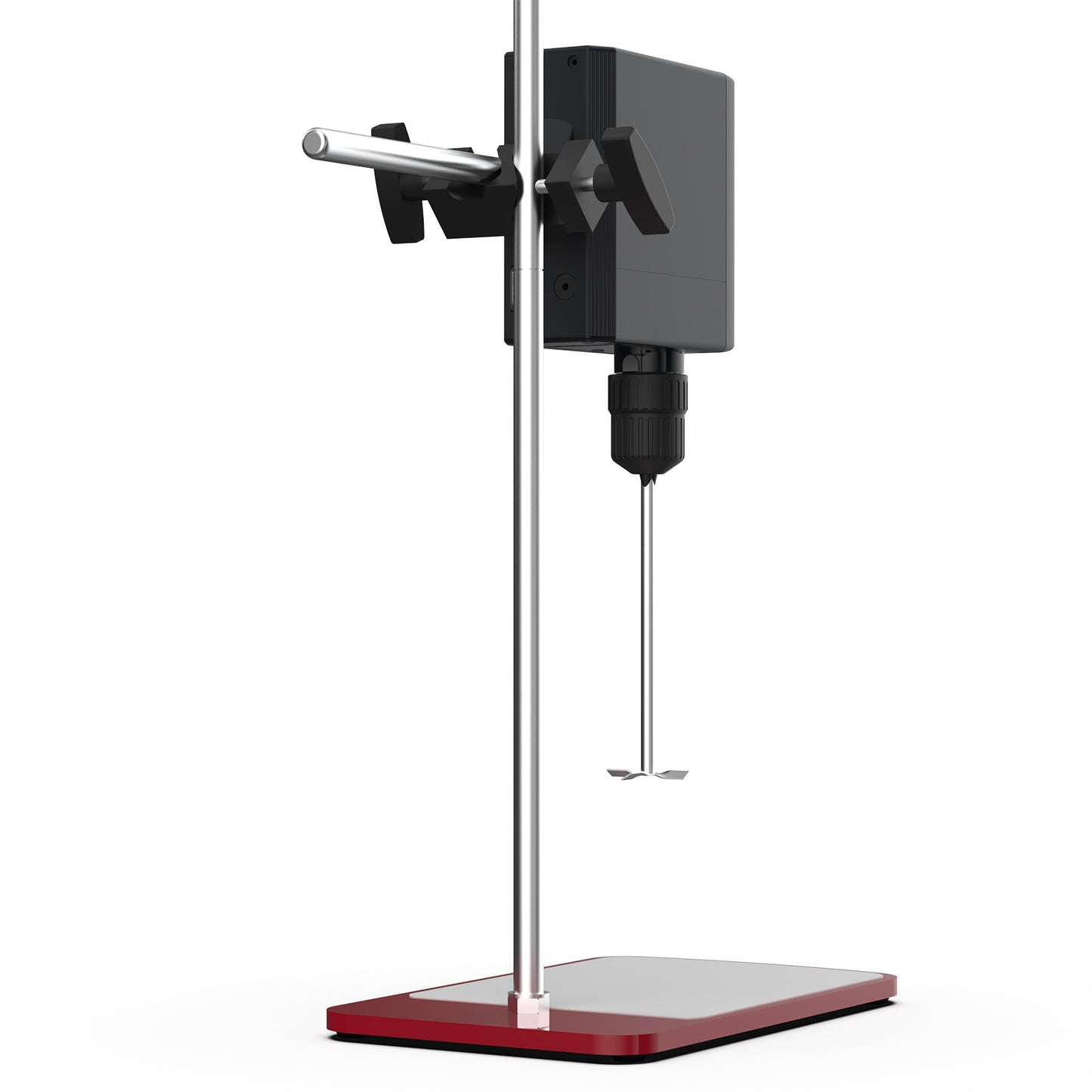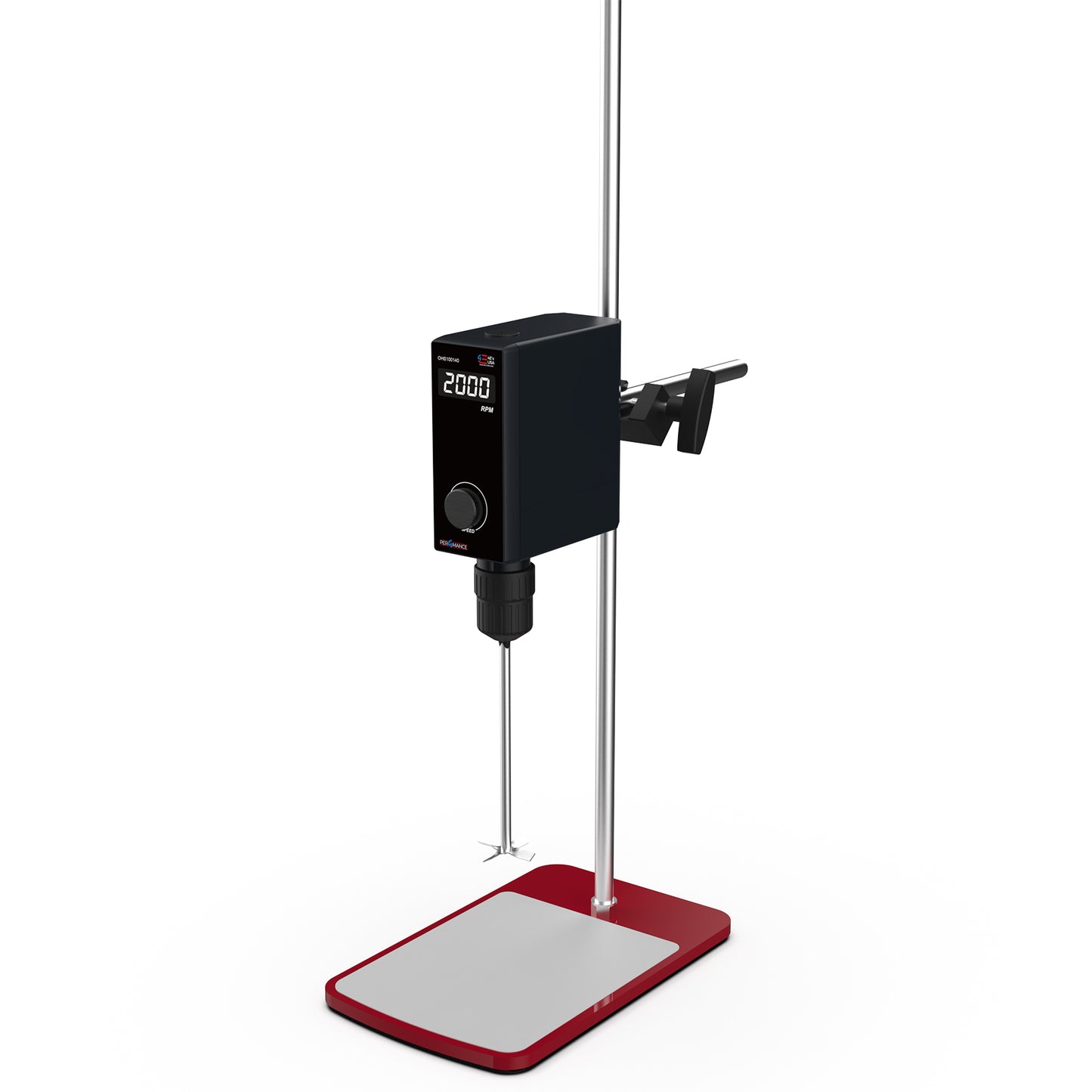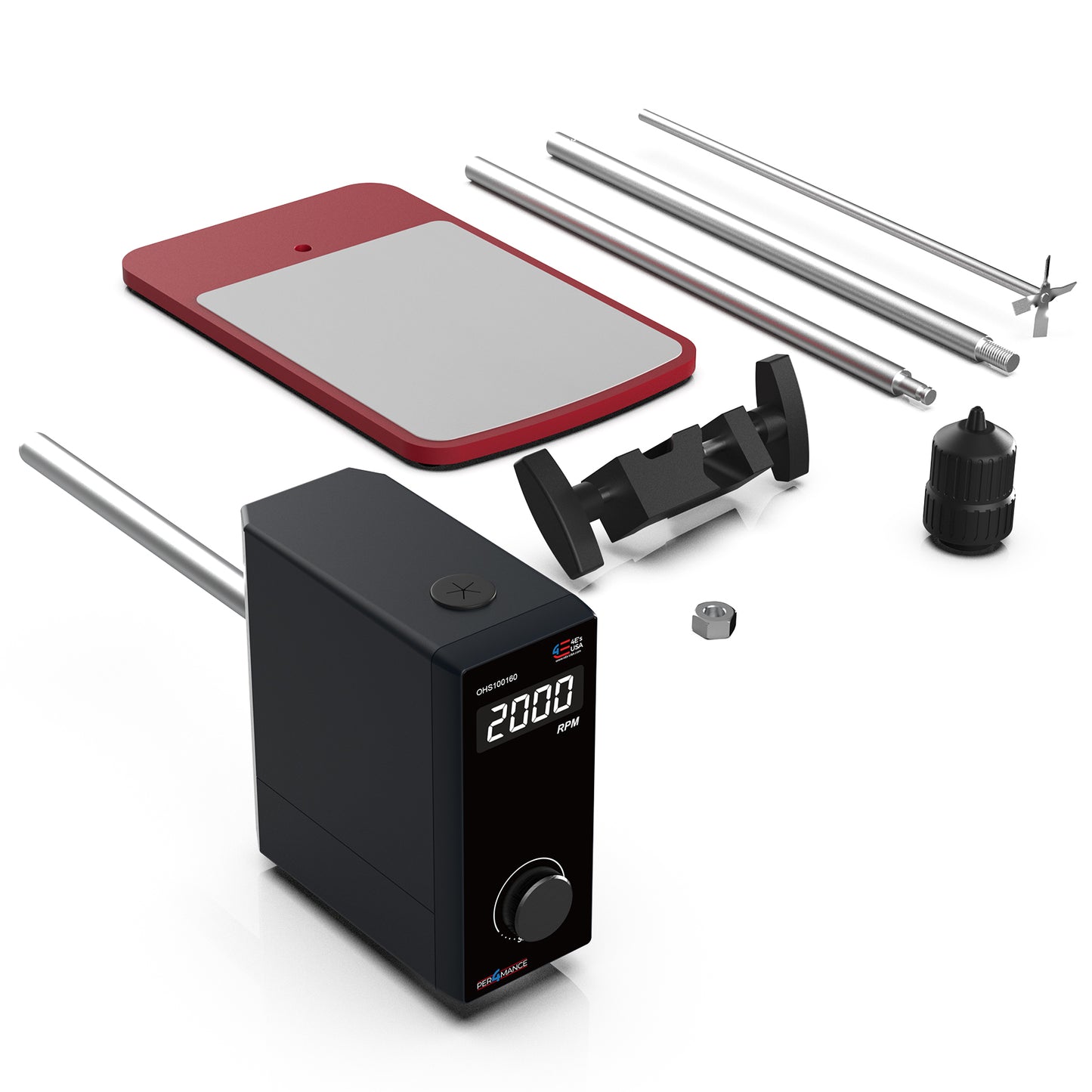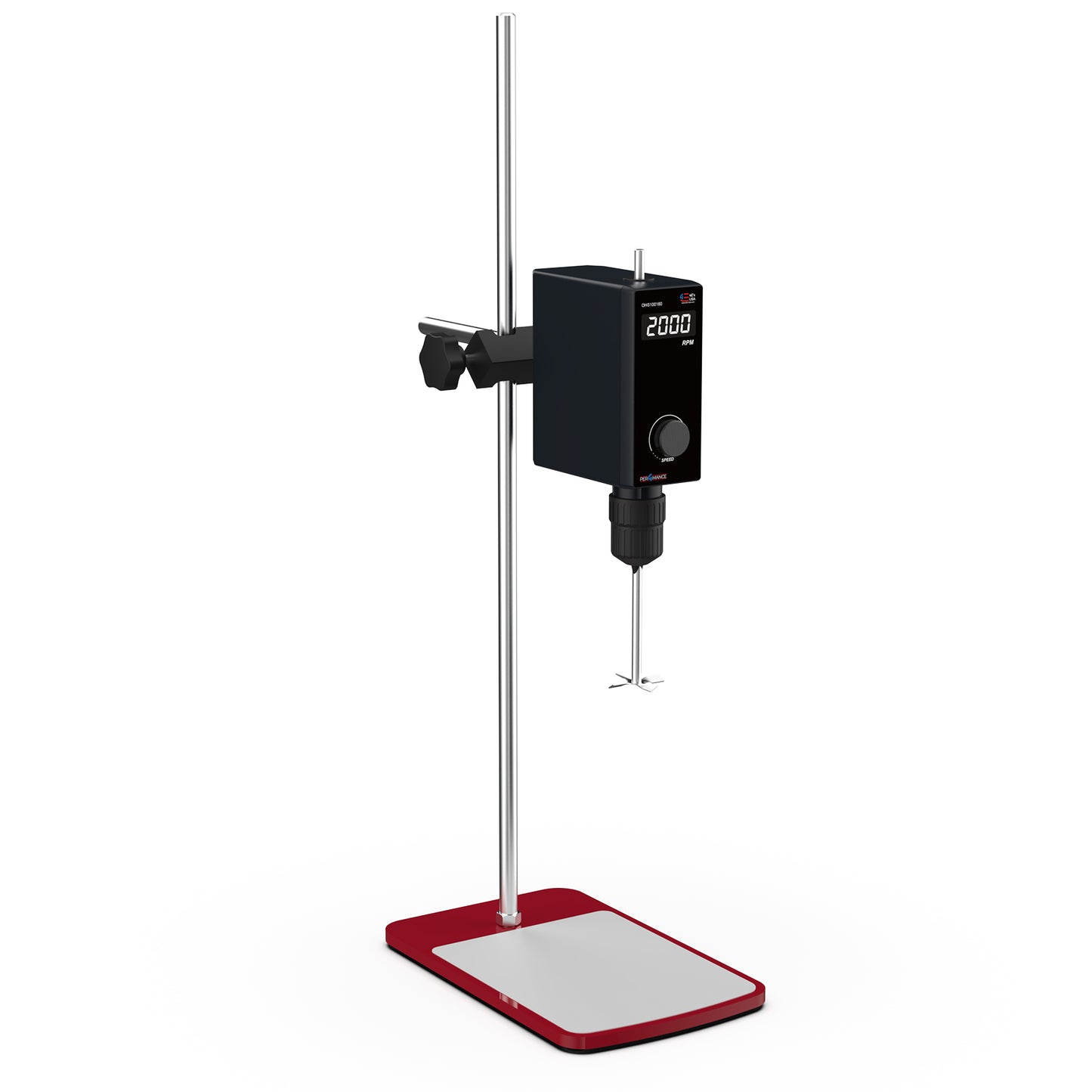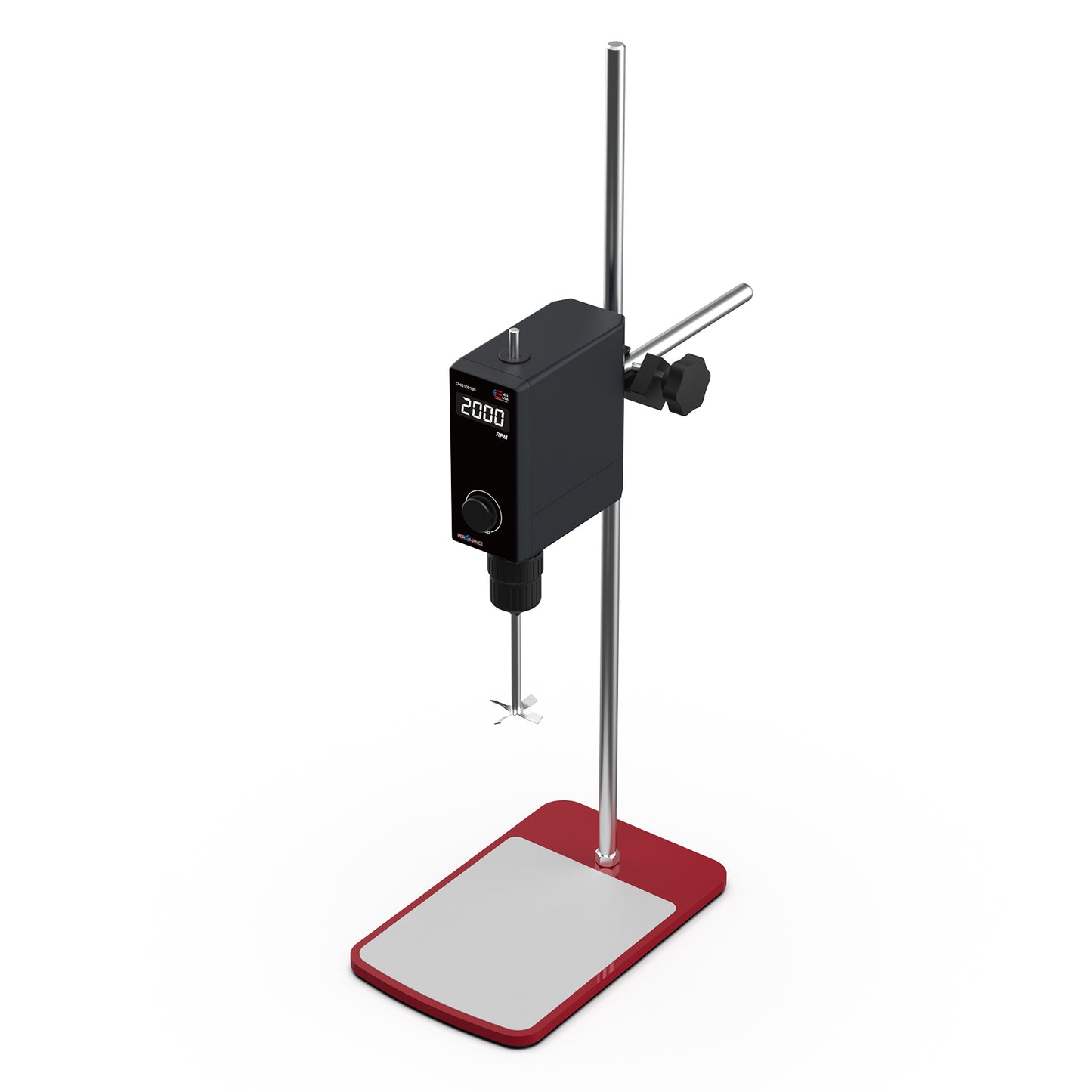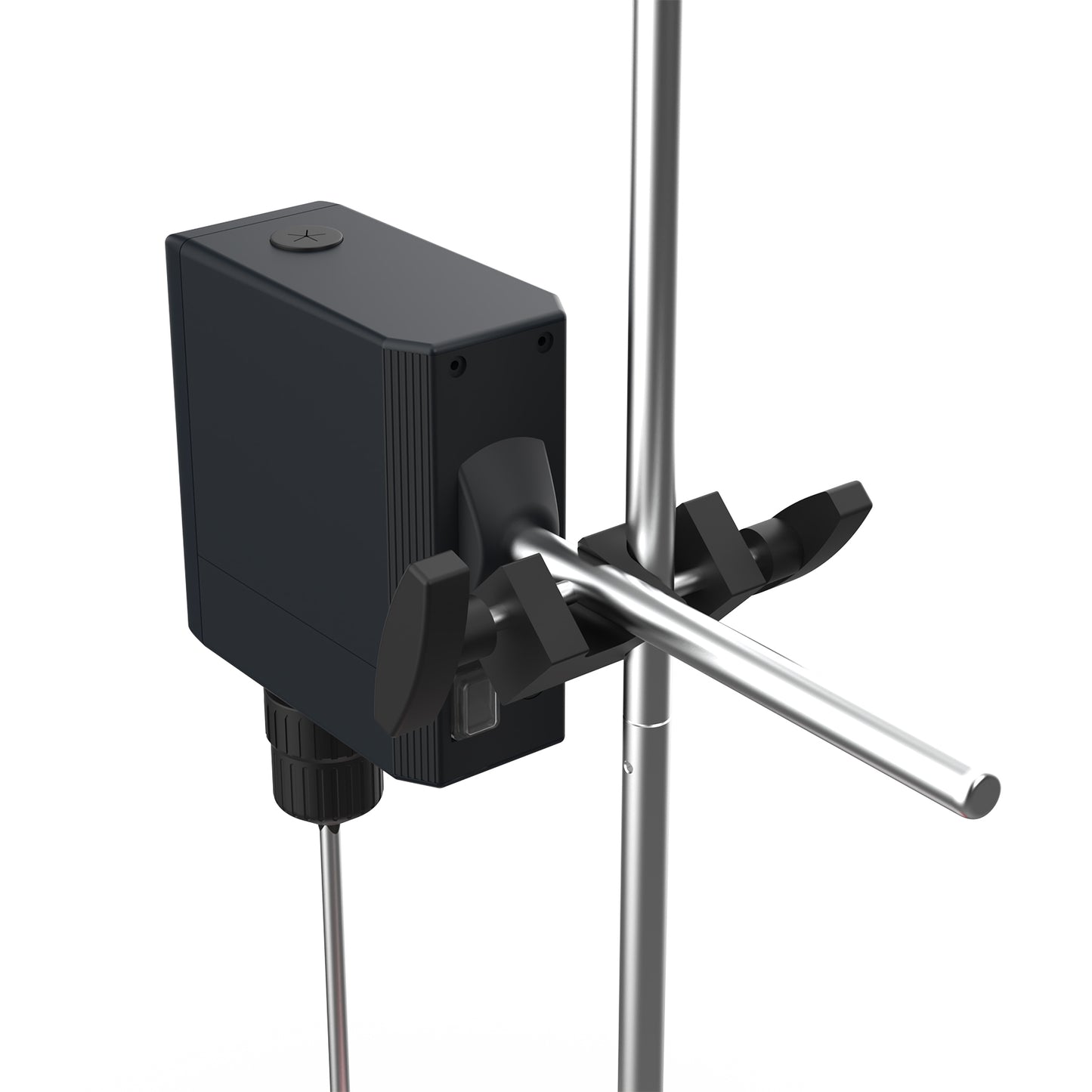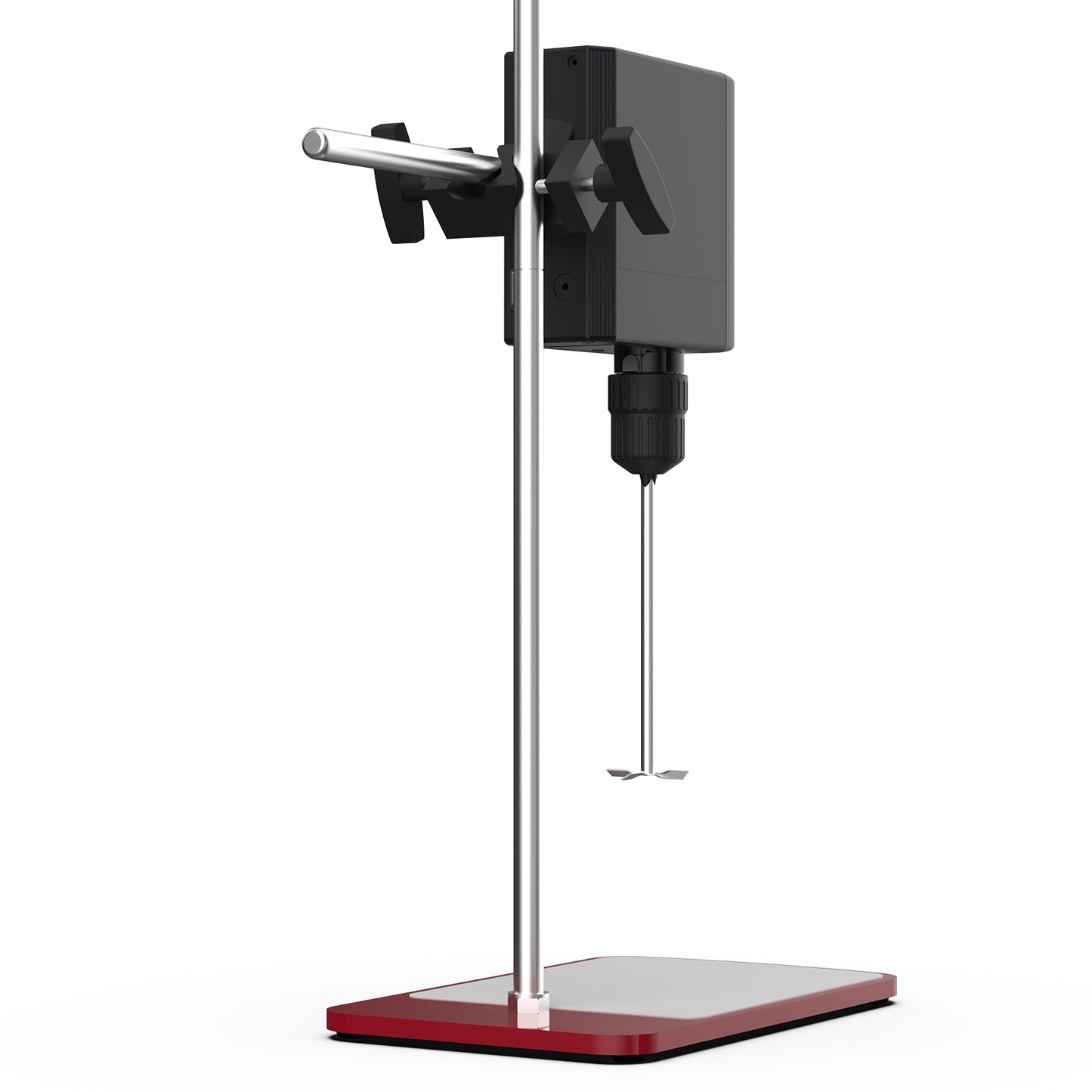 Sleek and Powerful Overhead Laboratory Stirrers Designed for Years of Service
To build great stirrers you start with great engineers. Four E's USA Overhead Stirrers were designed with our engineering team working closely with customers mixing emulsions, suspensions, and water and oil mixtures. These stirrers use advance controls to provide constant mixing speed through low and high viscosity solutions. Whether you are working with polymers or polyphenols Four E's USA stirrers were designed to exceed expectations.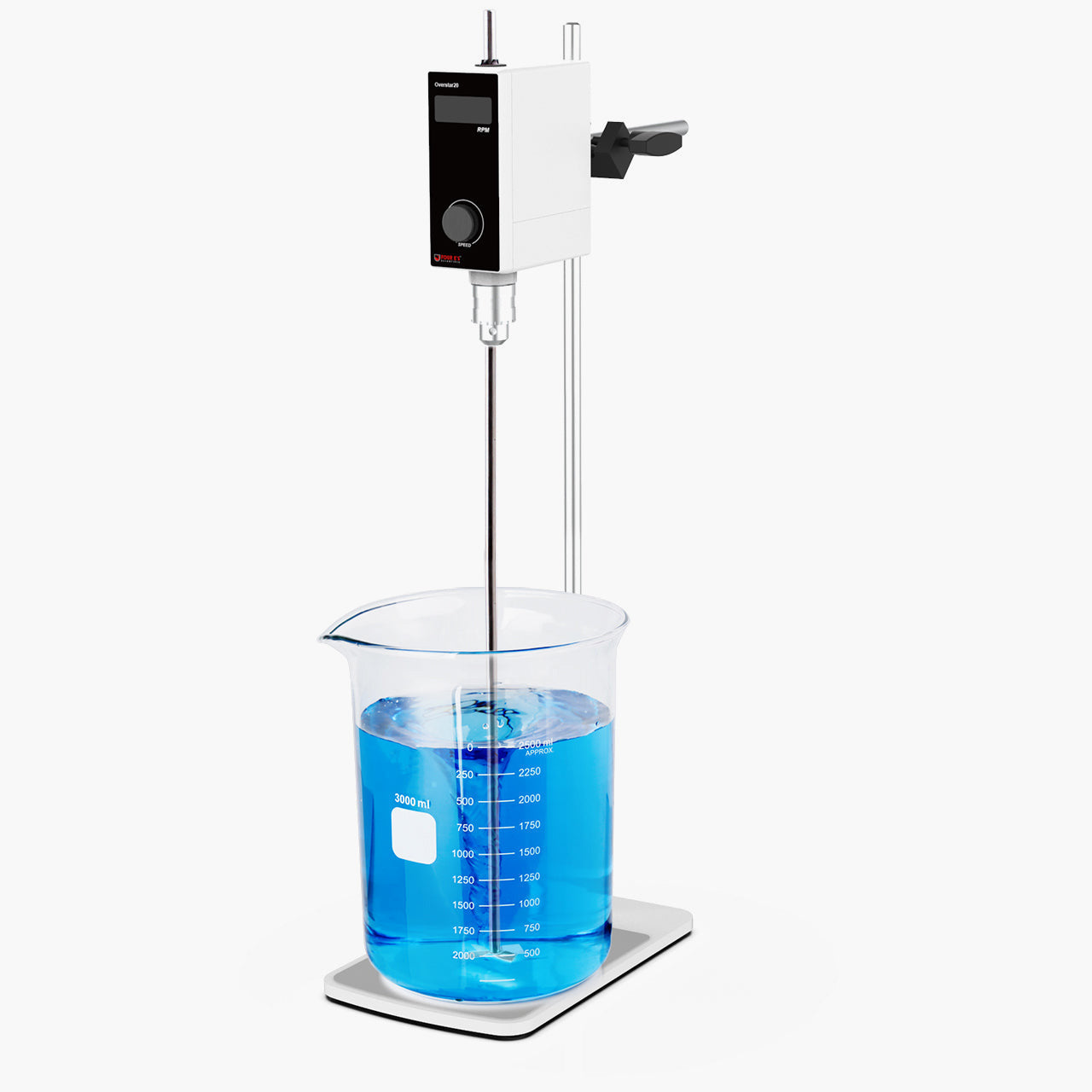 Precise Speed
Control
---
Bright, Easily Readable, Modern Display
---
Built in Overload
Protections
---
Maintenance Free Brushless DC Motor
Specifications

Features

Downloads

Video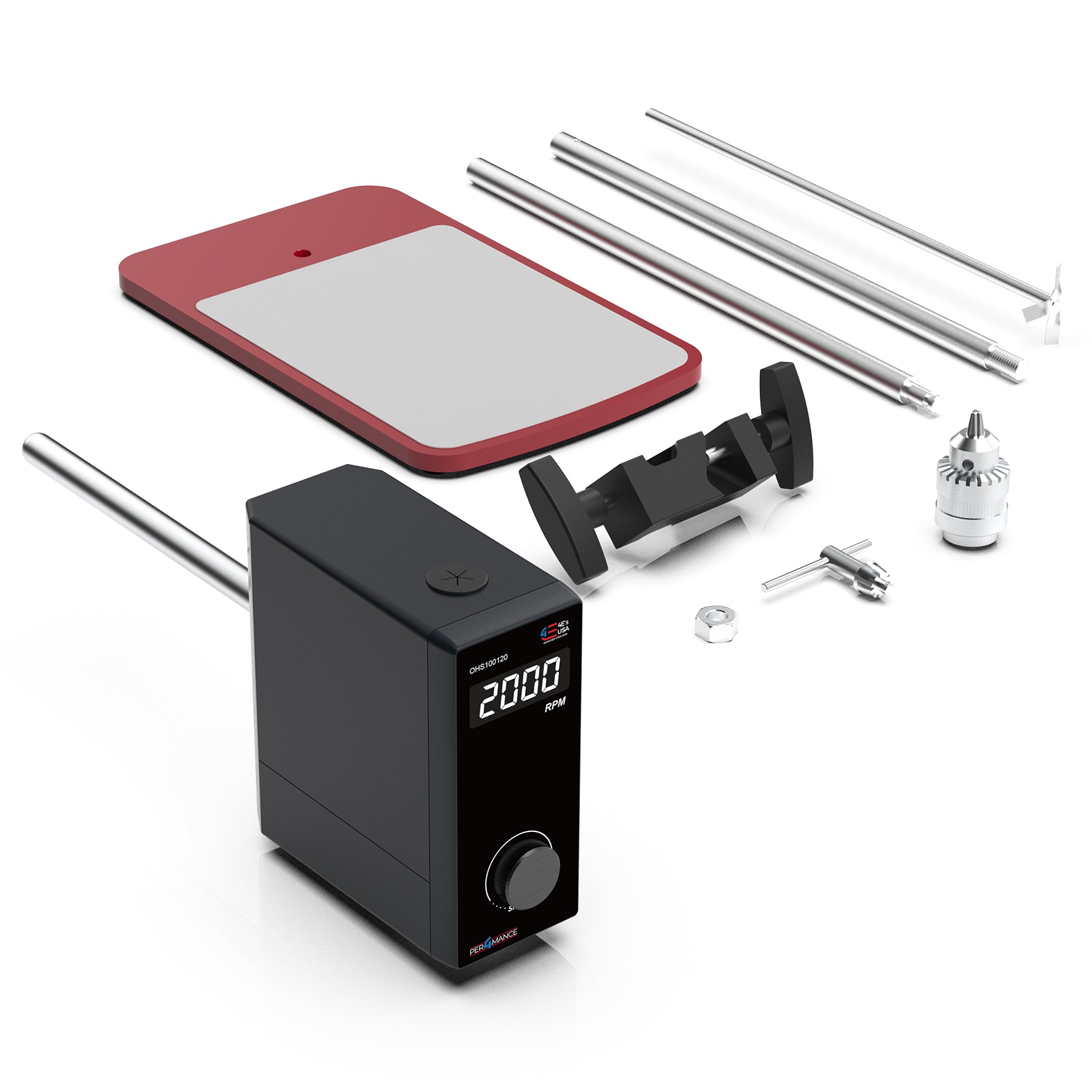 20 Liter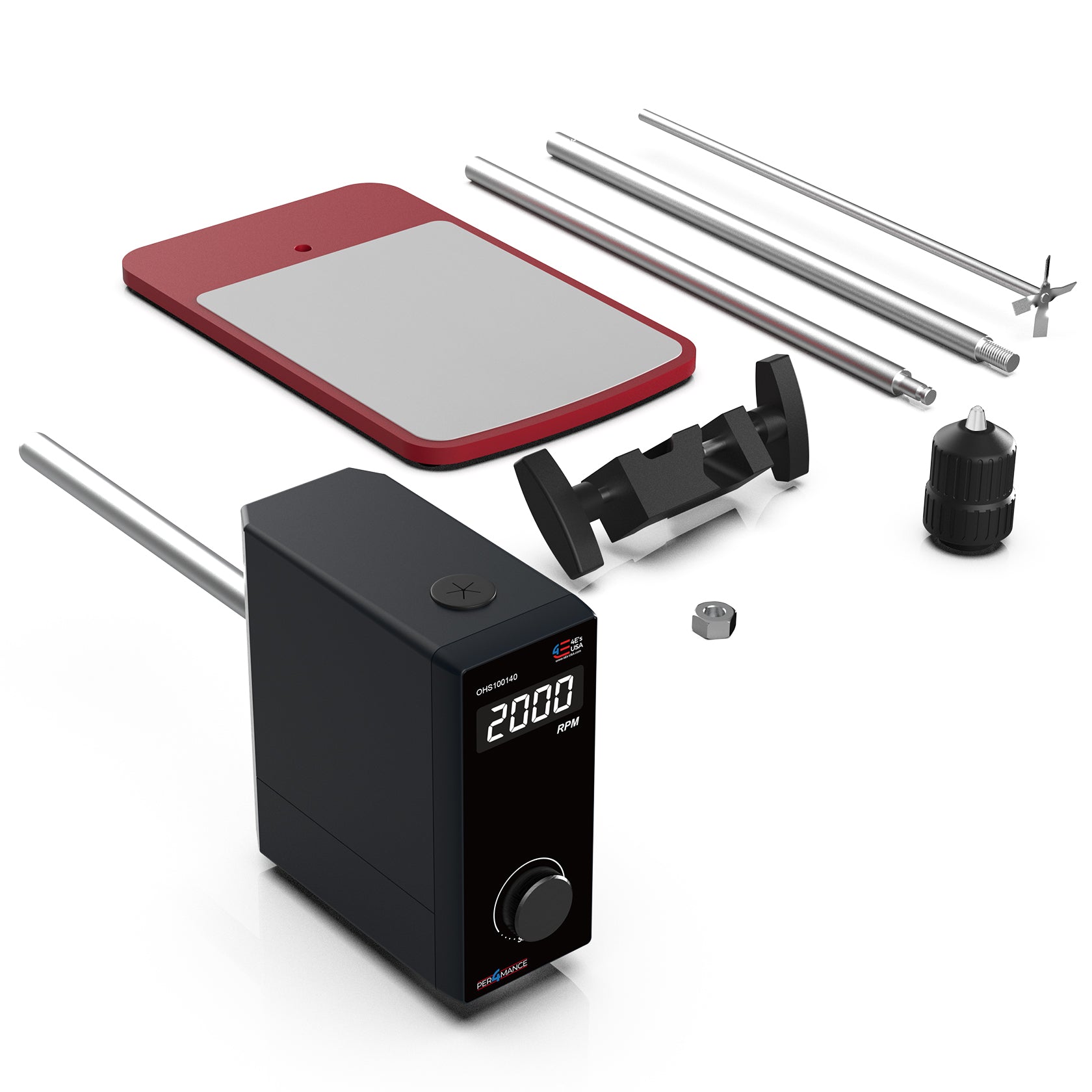 40 Liter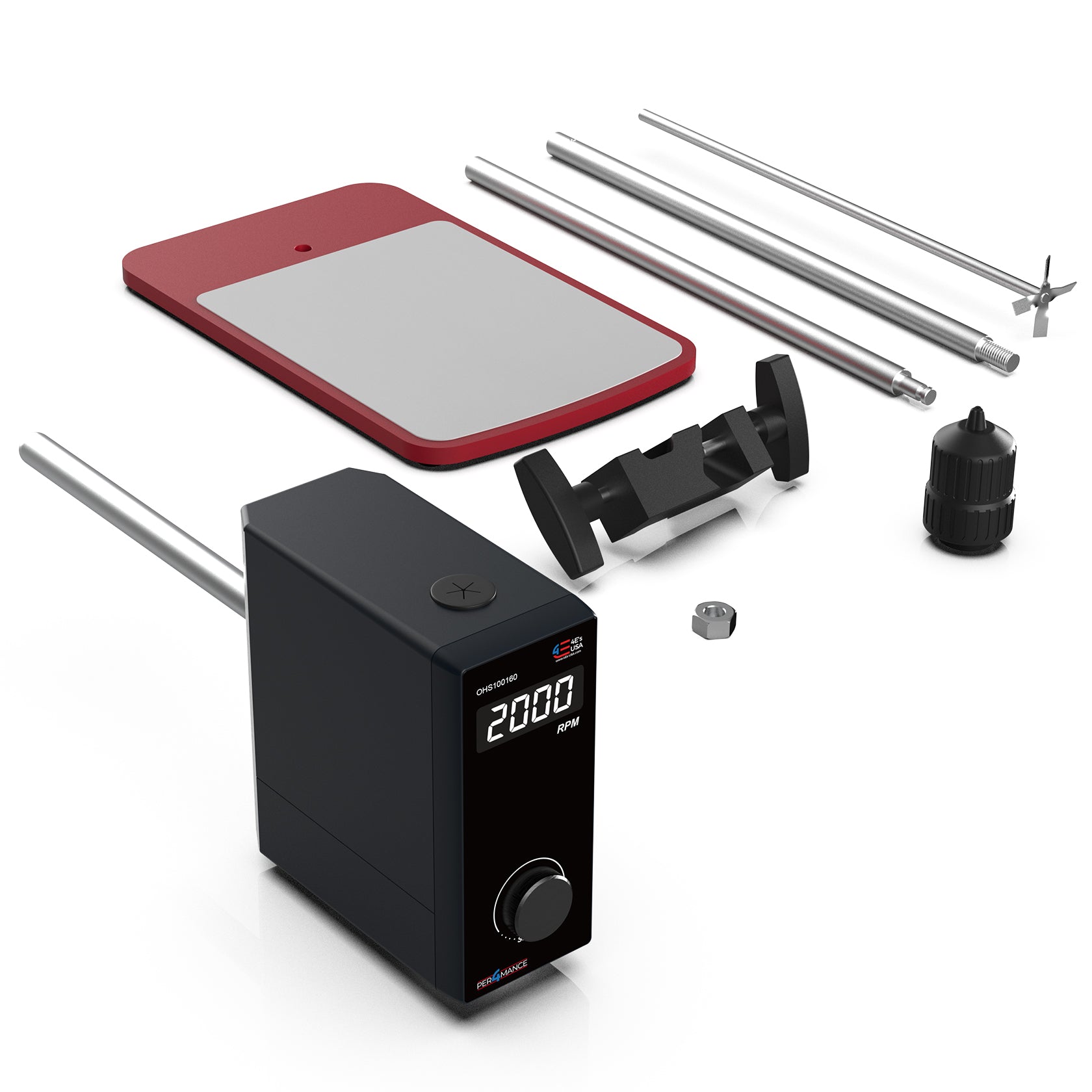 60 Liter
| | | | |
| --- | --- | --- | --- |
| Display | LED | LED | LED |
| Voltage | 100V -240V | 100V -240V | 100V -240V |
| Frequency | 50/60Hz | 50/60Hz | 50/60Hz |
| Max. input power | 72W | 145W | 220W |
| Speed range under normal load | 0/50-2000rpm | 0/50-2000rpm | 0/50-2000rpm |
| Speed increment | Stepless, 10rpm | Stepless, 10rpm | Stepless, 10rpm |
| Speed accuracy | ±1% | ±1% | ±1% |
| Max. torque at stirrer shaft | 20N.cm | 40N.cm | 60N.cm |
| Max. stirring quantity | 20L (H20) | 40L (H20) | 60L (H20) |
| Max Viscosity | 1,000 mPas | 5,000 mPas | 5,000 mPas (2000rpm) 10,000 mPas (1000rpm) |
| Protection class according to DIN EN60529 | IP42 | IP42 | IP42 |
| Protection at Overload | YES | YES | YES |
| Motor protection | YES | YES | YES |
| Over Temperature protection | YES | YES | YES |
| Permissible ambient temperature | 5-40°C | 5-40°C | 5-40°C |
| Permissible relative humidity | 80 % | 80 % | 80 % |
| Clamping chuck-clamping range | 0.5-10mm | 0.5-10mm | 0.5-10mm |
| Power [W] | 65 | 65 | 65 |
| Dimensions (D×W×H) (without extension arm) | 71×174×240mm | 71×174×240mm | 71×174×240mm |
| Weight (with extension arm and clamping chuck) | 2.3kg | 2.5kg | 2.5kg |
Features
Compact, Solid, and Sleek design

Speed Range: 50rpm~2000rpm

Provides constant speed even with changes in viscositiesof the sample

Wide LED display for precise speed adjustment and monitoring

LED display shows actual and set speeds alternately

Overload protection system if the torque exceeds the stirrer ratings

Safety circuits: Circuit auto cut-off feature for additional protection

Maintenance-free Brushless DC motor

The through-shaft housing design allows for easy impeller heightadjustments and thereby less downtime in between sample changes
Digital Overhead Stirrer OHS Models REVA
Intelligent design
Four E's takes mixing seriously. Each overhead stirrer includes everything you need to start suspending. The through shaft design allows for adjustable impeller height and securely attaches the implement to the high-end brushless motor. We also have over a dozen accessories to ensure that your experiment has the tools necessary for success. The bright display alternates between the set speed and the actual speed to provide real-time process feedback. Contact our product specialist to determine what model is best for your lab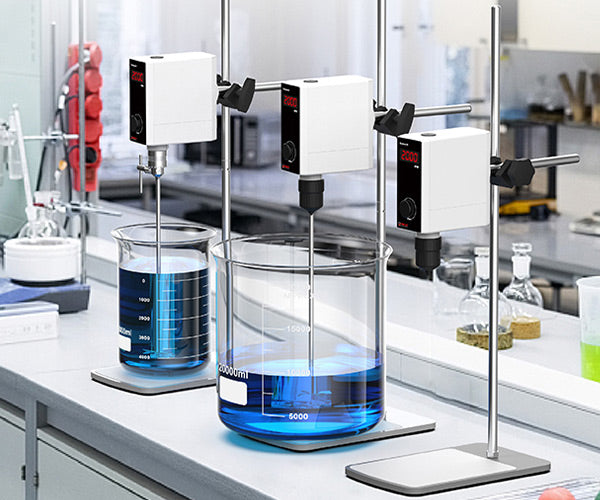 Safety is Paramount
How much safety is too much for an overhead stirrer? We don't know but we would rather err on the side of caution. Four E's USA has multiple safeties built in for the operator and the device. If the unit detects excess torque a proprietary overload safety kicks in. There are also auto cut off and temperature sensing circuits for additional protection. The intuitive interface has easy to read codes and an audible alarm for fault detection and diagnosis.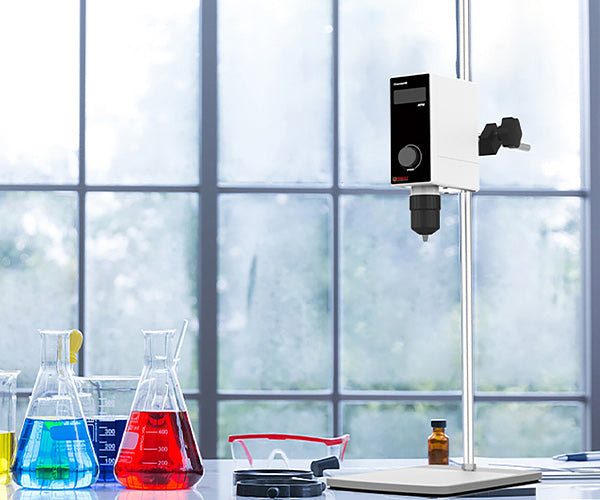 4E'S Vs Other Brands
Base Plate and Stand Included
Frequently Asked Questions
Everything you need to know about product and billing. Can't find the answer you are looking for? Please write your question to us at info@4Es-USA.com
Do you sell additional impellers?
Four E's offer a range of impellers for your mixing application. Please check our accessories section or reach out to a product specialist
Is there a warranty on the unit?
Four E's stirrers come with a two-year warranty.
What is the maximum viscosity rating for the OHS-60D?
The OHS-60D has two viscosity ratings. If your are operating under 1000 rpm's the rating is 100,000 mPas. If you are operating above 1000 rpm's the rating is 50,000 mPas
What type of motor is used in the units?
A top-tier, maintenance free, brushless DC motor.
What is the RPM range for these devices?
The units can have a setpoint from 50 – 2000 rpm's
Will the unit cut-off automatically if it gets too hot?
Yes, one of the safety features will protect the device from damage due to overheating.
Does the unit have alarm codes?
Yes, the unit has four alarm codes and audible alarms for easy diagnosis
How do you set the speed?
To configure the speed, use the large knob to adjust the setpoint. Press the nob to start or stop the stirring
Got a question? Let's talk.
PS: I am a human! :)
Support is online