Your Cart: 0 Items
Cart items expire in 1 hour, not reserved.
Tissue Flotation Bath
In Stock: 2
Regular price
Sale price
$1,631.70
Unit price
per
Sale
Contact Us
Product Information
Product code : TFB200101
The Four E's USA Tissue Flotation Bath is Advanced, Affordable, and Quiet. Boasting the deepest dish in the industry, this laboratory device was designed to make processing tissue samples a cinch. The unit has a large color touch screen with easy-to-use advanced controls such as Auto On/Off, Timer, Heater and Light Control.  The design is also Fan-less and eliminates annoying noise when preparing FFPE microscope slides.  There is also no clumsy removable temperature sensor, the modern design has temperature sensor built into the device. Contact one of our product specialists for more information.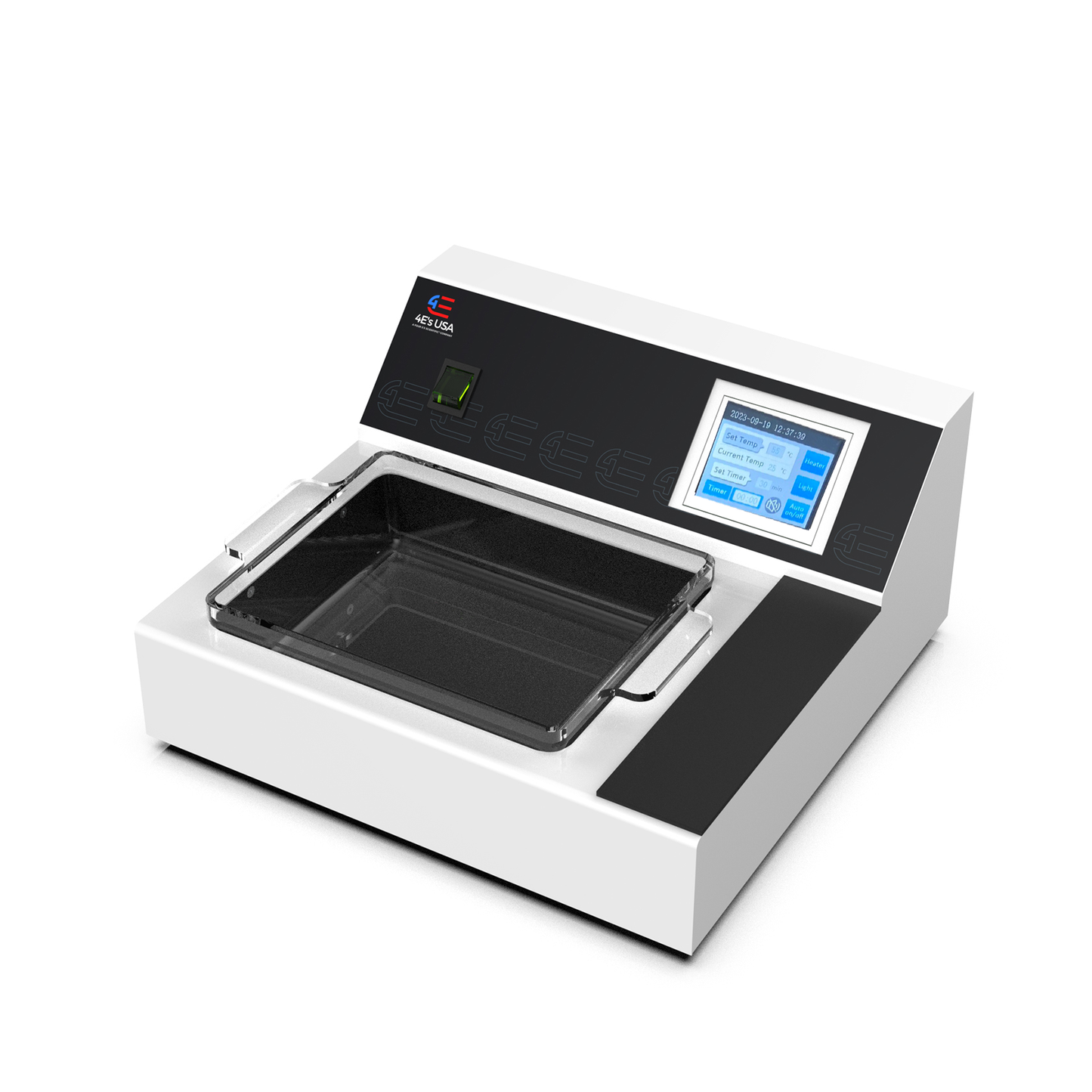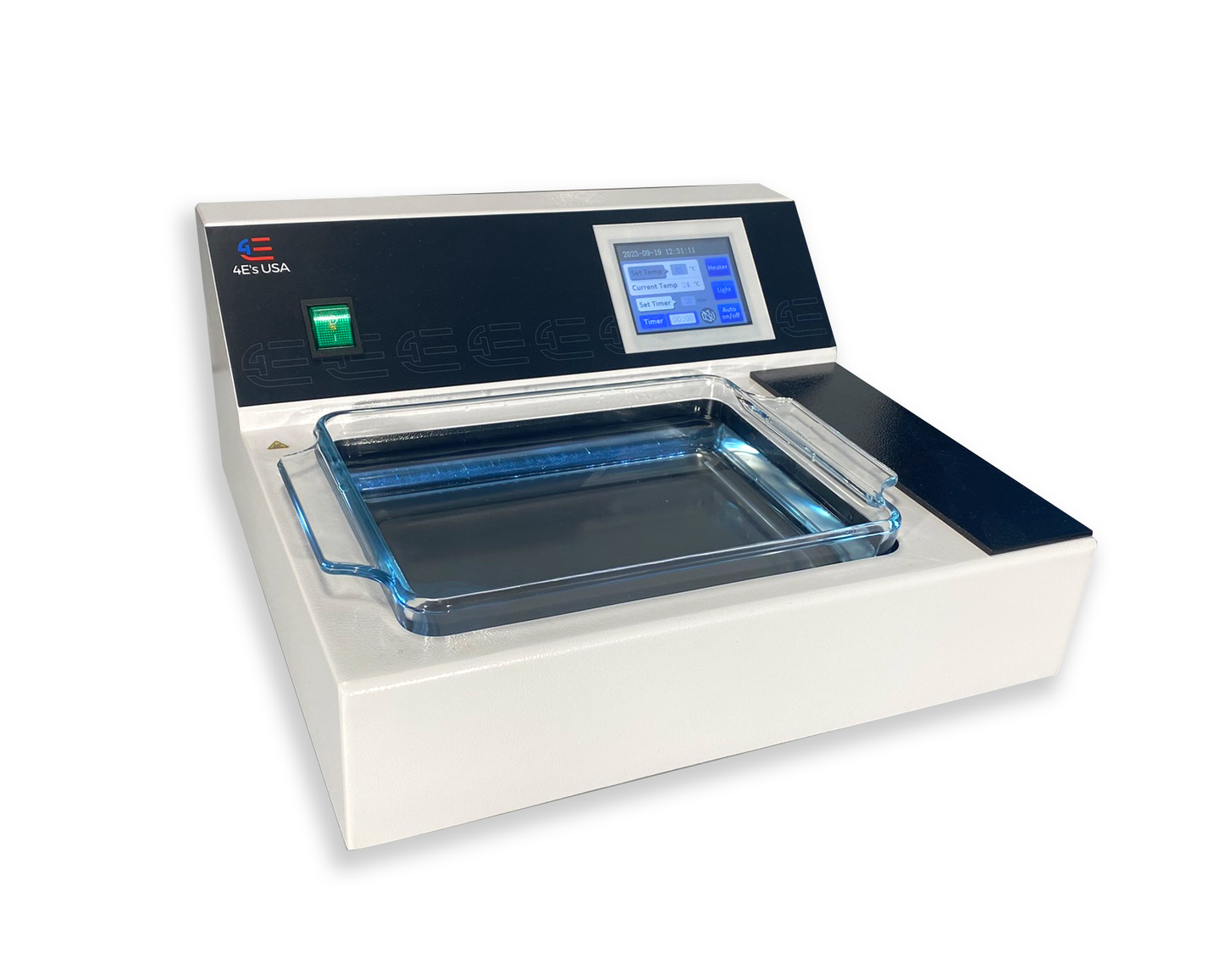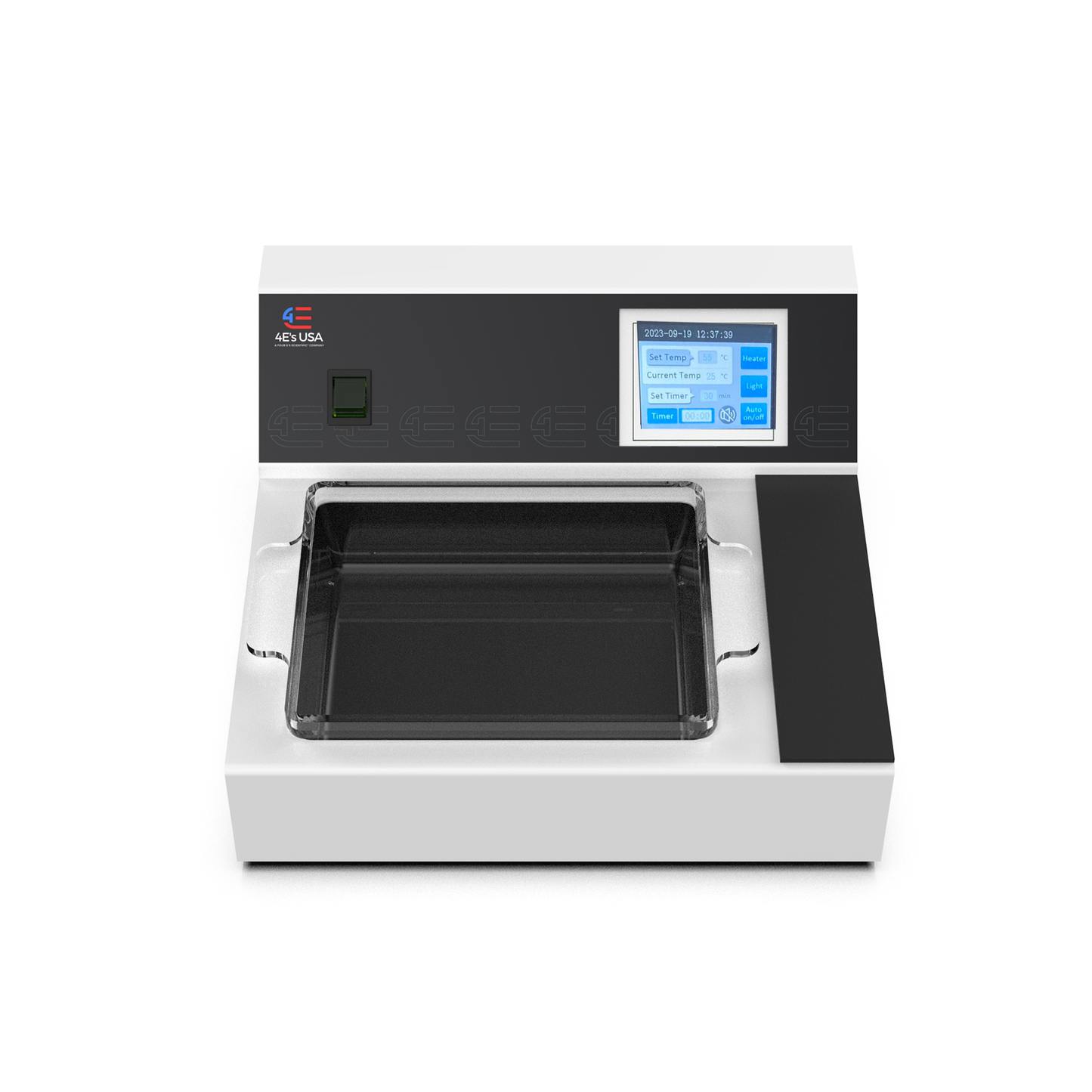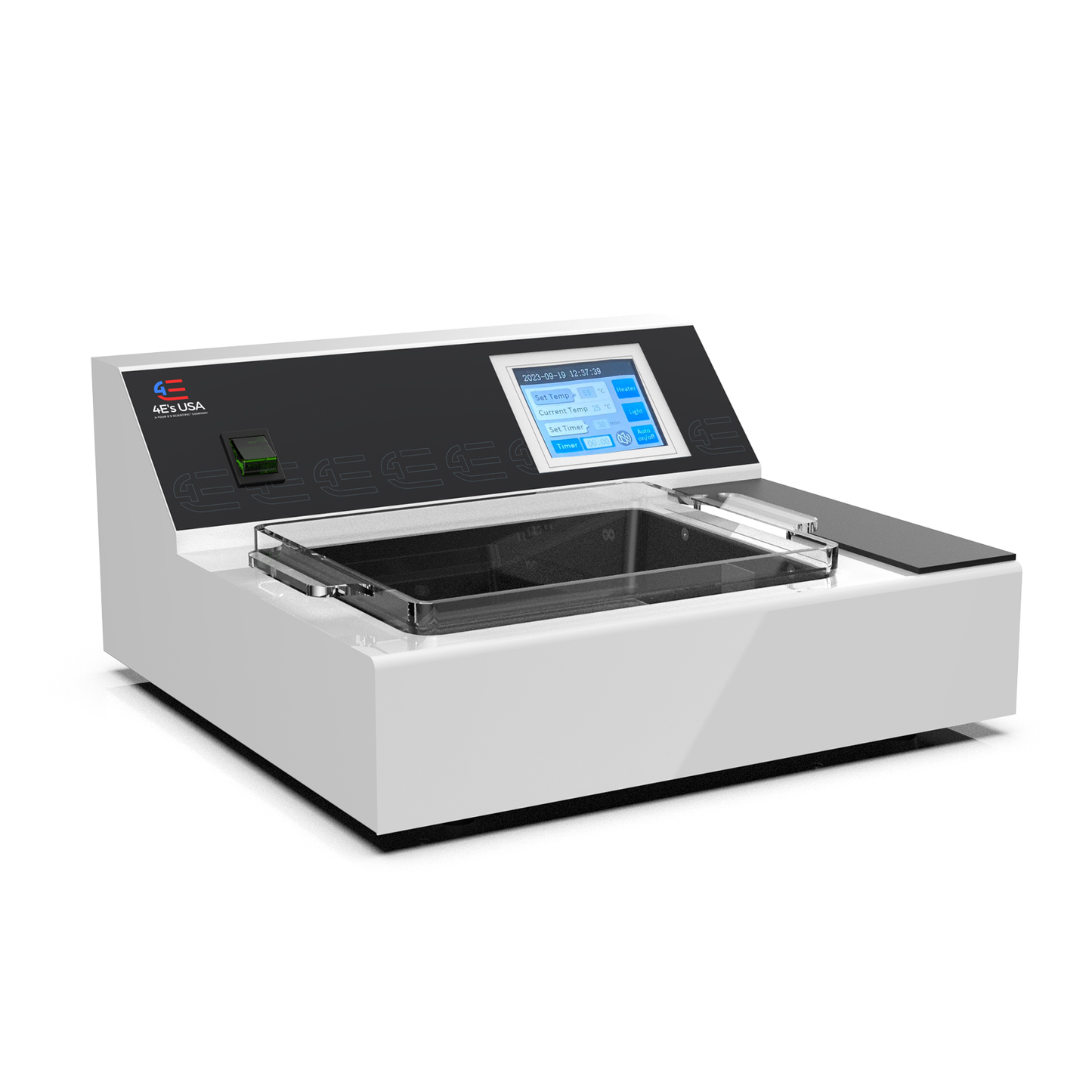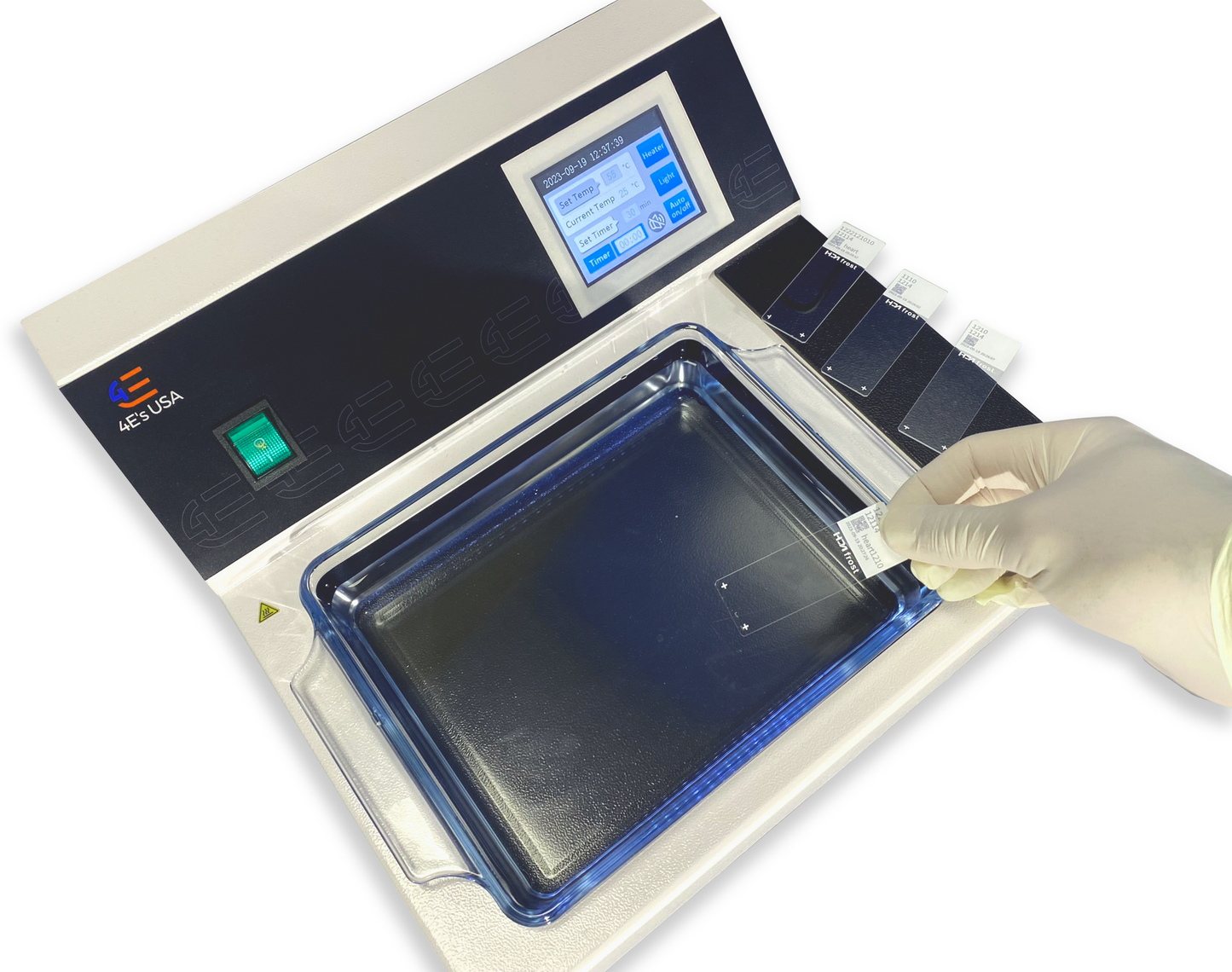 Deep Dish Isn't Just for Pizza
When Four E's Designs equipment we start with our customers and work backwards. One of the biggest complaints about lighted tissue flotation baths is the depth of the glass dish. Customers are constantly filling the dish or hitting the slides on the bottom of the glass basin. Four E's, rather than selecting a standard off the shelf glass dish, designed a dish that was much deeper than existing tissue flotation baths. We then surrounded this dish with high end features and components and provide the equipment at an affordable price.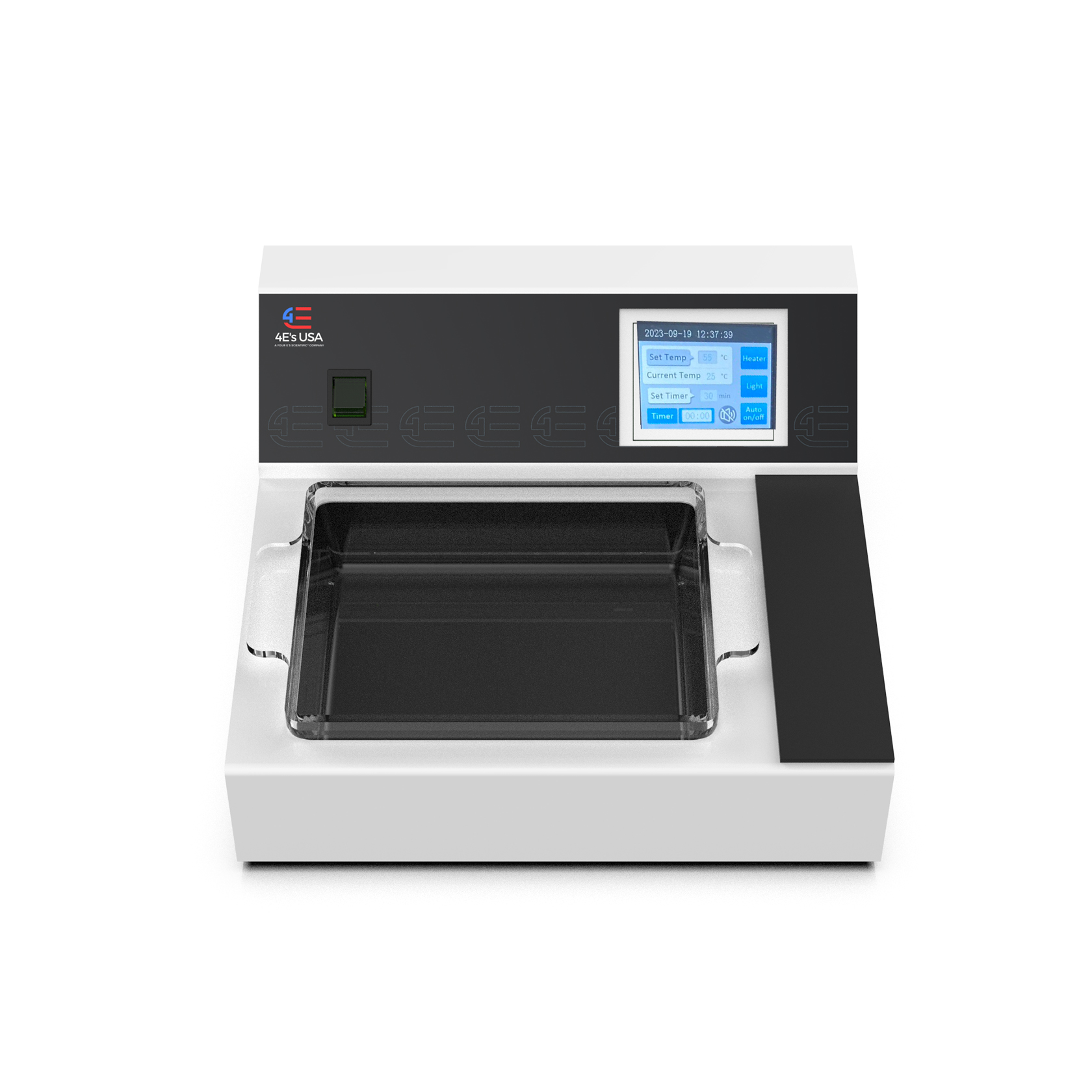 Rapid Heat Up Time
---

No Constant Filling
---

Advanced Color Touchscreen
---
Useful Settings and Functions
Specifications

Features

Downloads
| | |
| --- | --- |
| Type | Tissue Flotation Bath |
| Model | TFB200101 |
| Temperature Range | 0-100°C (1°C increment) |
| Control | 5" Color Touch Screen |
| Slide Placement Area | Room for 8+ Slides |
| Glass Basin Dimensions | 210mm x 168mm x 55mm |
| Unit Dimensions | 327mm x 340mm x 166mm |
| Temperature Sensor | Internal |
| Control Functions | Light / Timer / Auto ON&OFF / Light / Heater / Alarm |
| Electrical | AC120V/60Hz | 200W |
| Heating Time | 20 minutes to heat to 54°C |
| Temperature Accuracy | +/- 1°C |
| Relative Humidity | <80% |
| Suitable Ambient Temperature | 5-30°C |
| Light Color | White |
| Materials of Construction | Epoxy Painted Steel with PTFE coated Slide Drying Area |
Features
●

High-Definition touch screen and user-friendly interface for intuitive operation

●

Microprocessor Controlled device with precise temperature performance

●

Extra deep glass dish for ease of collection sectioned samples

●

Nonvolatile memory that retains setpoints and settings

●

No removable temperature sensor for extra sample processing area

●

Advanced safety over-temperature protection that shuts of the device

●

Easily build and configure new print templates to suit your laboratorysample needs

●

Convenient slide placement area
Four Es UV Microscope Slide Printer
Four Es UV Tissue Cassette Printer
Easy to Use
Four E's designs equipment that is easy to use. Our goal is build user friendly equipment that it is so easy to use it does not need a manual. This tissue flotation bath has simple controls and useful features. The Auto ON / OFF feature will allow for the unit to automatically warm up so no time is lost waiting for the device to reach temperature. The touch screen also has a built in timer, and large buttons for the light and heater control.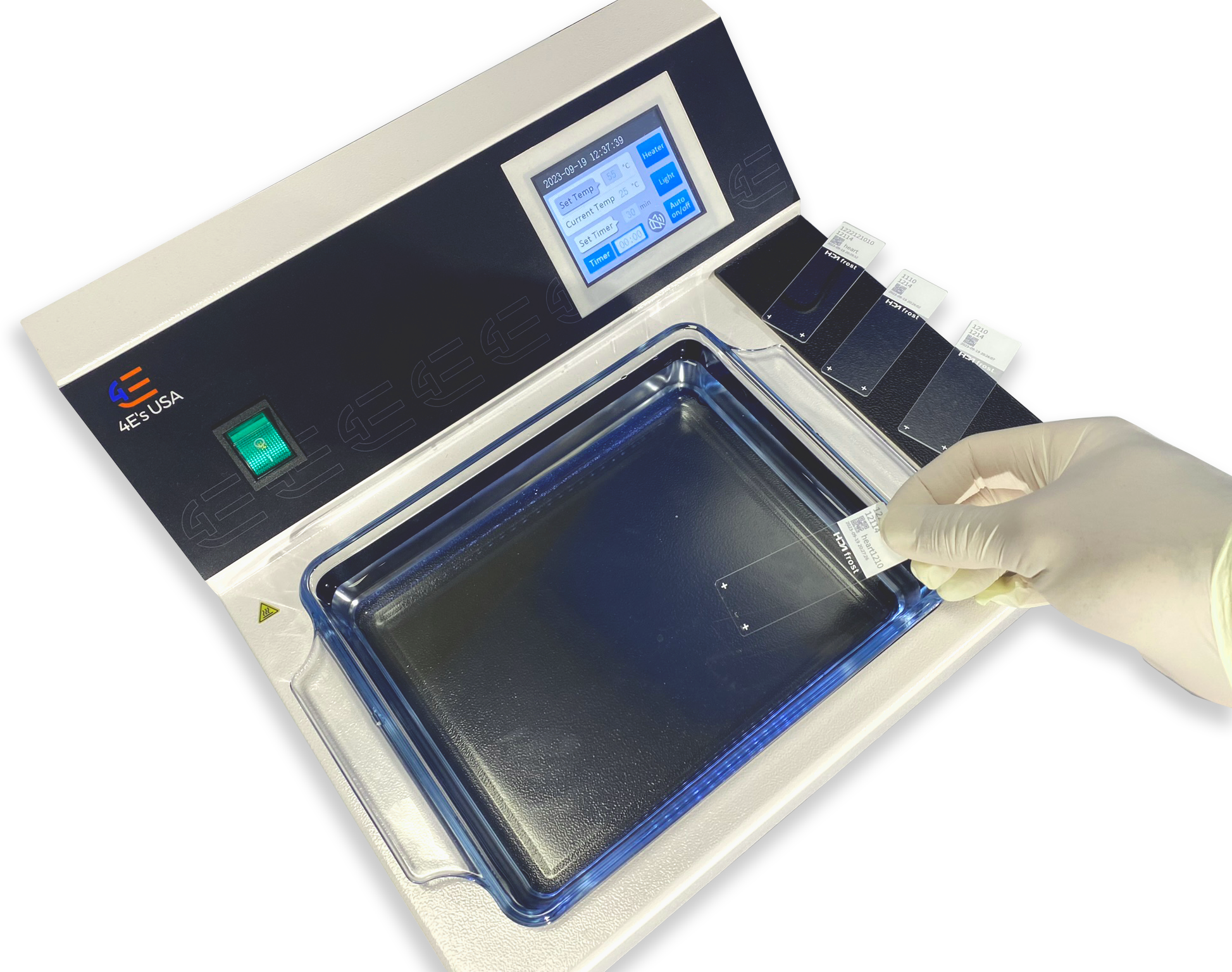 Accurate Temperature for Pristine Slides
Heating equipment is Four E's forte. This equipment was designed with top-of-the-line temperature sensor that does not need to be submerged into the bath, allowing for more room to process FFPE tissue samples. The finely tuned heating system allows for precise control of the water temperature and tissue sections producing wrinkle free microscope slides.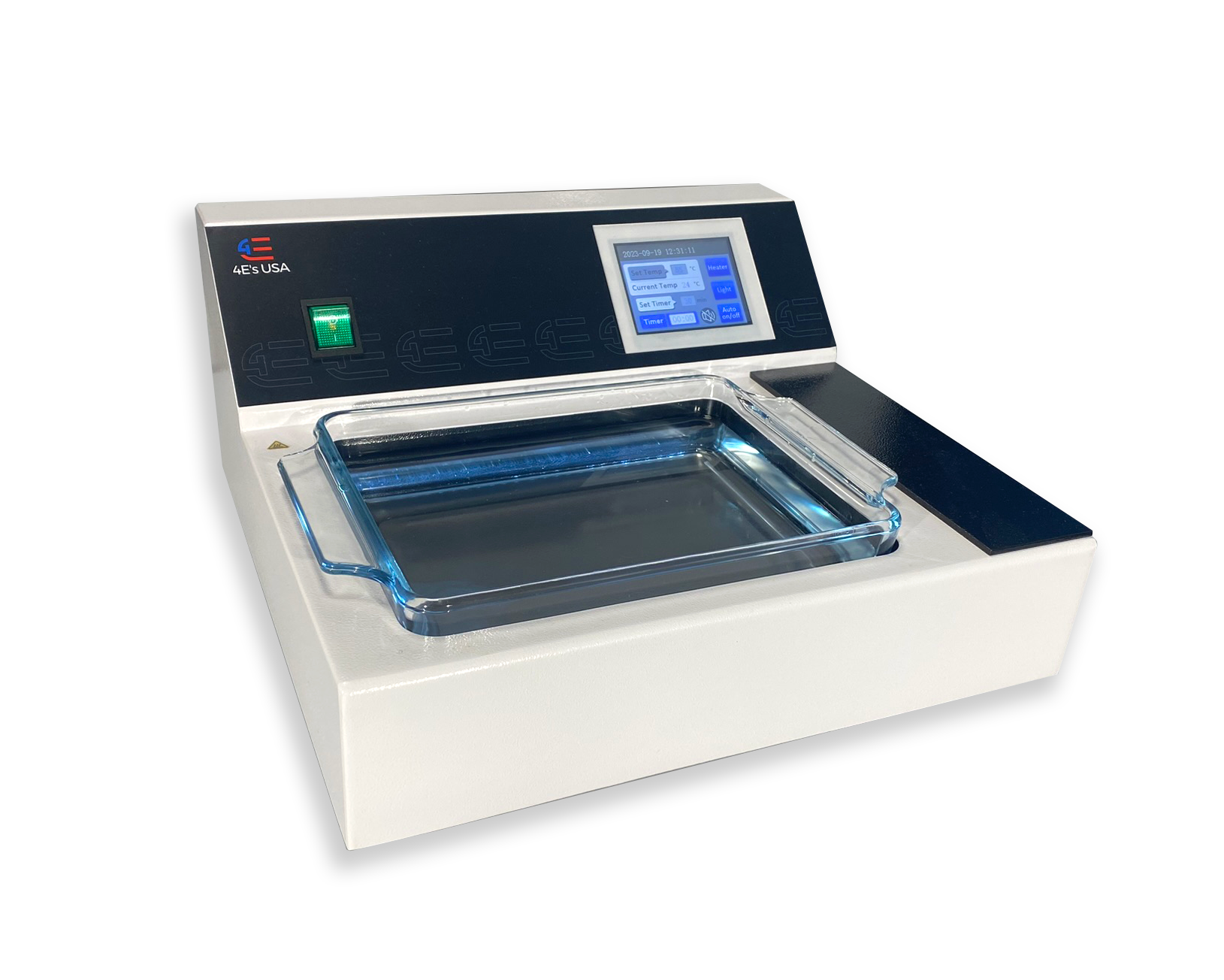 4E'S Vs Other Brands
Embedded Temperature Probe
Large Microscope Slide Area
Frequently Asked Questions
Everything you need to know about product and billing. Can't find the answer you are looking for? Please write your question to us at info@4Es-USA.com
How does the Auto On/Off Work?
The unit can be set to automatically turn on and turn off for the next day. This will ensure that the unit is ready for use.
Can the unit be calibrated?
Yes, the unit has a temperature calibration menu.
Does the unit have built in safety alarms?
Yes, the unit has built in alarms to protect from overheating.
Can I purchase a replacement glass dish?
Yes, this is an item we typically keep in stock.
What is the warranty on the item?
Four E's Equipment comes with a two year all-inclusive warranty?
Yes, this item is in stock at our NJ warehouse.
Got a question? Let's talk.
PS: I am a human! :)
Support is online